James Bubear family join missing student Bath march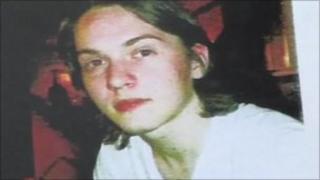 The family of a 19-year-old student from Powys who went missing in Bath joined a march to highlight his disappearance.
James Bubear, from Llandrindod Wells, was last seen leaving a fancy dress party at the Revolution bar in Bath alone on 13 March.
Sister Hannah said: "The constant waiting's not pleasant. It's horrible."
The march on Saturday took place along the likely route James took home, starting at Revolution bar.
He was last seen leaving the bar in George Street in Bath city centre two weeks ago on Sunday.
He had been at a masked ball and was wearing 70s-style retro clothes. Since then, he has vanished without trace.
His family in Llandrindod Wells his family are desperate for news. They used to contact him regularly via Facebook, now it is his friends that are contacting them.
His mother, Vanda Bubear, said she was thankful that a search of the River Avon proved fruitless.
She said: "It's been awful but we've all pulled together and we've all stayed strong. We're always here, together, ready to discuss things. It has been, it is, your worst nightmare.
Hannah Bubear said: "The waiting just seems to be endless.
"We hope that he's just gone on holiday and not told anybody. It just seems really unlikely, but I really don't want to think of the alternatives."
The family has printed thousands of leaflets picturing James as he looked on the night he disappeared and how he normally looks.
Sister Amy Bubear said family members from around the country were preparing to join the march, alongside many of his friends from Bath Spa University.
Earlier this week, James' father Andre Bubear, 57, travelled to Bath from France to help in the campaign.
Avon and Somerset Police have found CCTV footage of James on the night he disappeared, speaking to an unknown woman.
The cameras captured him walking along James Street West, outside the Odeon cinema.
Just after 2300 GMT, he is seen talking to a woman opposite Green Park Station, at the junction of James Street West and Charles Street.
Police are appealing for anyone with any information to come forward.