Richard Evans walks from Cardiff to London over cuts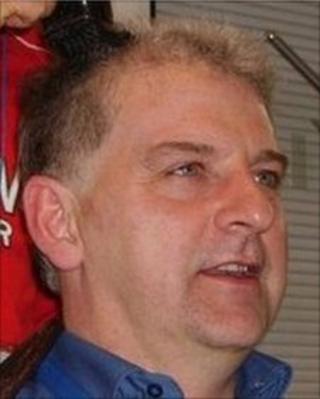 A civil servant has finished a week-long walk from Cardiff to London to join a protest march gainst the coalition government's spending cuts.
HM Revenue & Customs call centre worker Richard Evans finished his 166 mile (267km) walk on Friday evening after starting last Saturday.
The PCS union rep said the walk was worth it but his feet were "very sore".
In October, Chancellor George Osborne announced £81bn in cuts over four years to wipe out the UK's budget deficit.
The UK government has estimated that it will mean a cut of 500,00 public sector jobs over the period.
Mr Evans said: "I wanted to encourage people to get on a bus. I think the best way to do that is to go a step further.
"The whole point of this is [that] the government looks again at the cuts.
"I'm hoping there is enough people here to make them realise when you're in the position you're in - in the coalition government - you need to think again."
The Trades Union Congress has said more than 250,000 people have joined the march, more than it had expected, but police are not estimating numbers.
Mr Evans said: "With this number of people, the government have to take notice."
Education Secretary Michael Gove told the BBC he could understand people's "disquiet and anger".
He said: "But the difficulty that we have as the government inheriting a terrible economic mess is that we have to take steps to bring the public finances back into balance," he said.