Sea Trust calls for volunteers to help track dolphins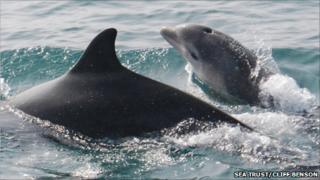 Marine conservationists want to launch volunteer groups along the Welsh coast to help track the winter habits of dolphins.
The Sea Trust spotted more than 50 bottlenose dolphins in its first spring boat trip in Cardigan Bay.
Trip organiser Cliff Benson said very little was known of the dolphins' winter movements.
"Some seem to move out of the bay, some stay - but who goes where is a mystery," he said.
The group, which is the marine arm of the Wildlife Trust South and West Wales, spent seven hours off the coast on Monday and encountered around 10% of Cardigan Bay's resident population of dolphins.
"One group were certainly full of the joys of spring with lots of interaction going on between the males and females," said Mr Benson.
"Calves were also present and we were glad to see them."
Many of the dolphins were already known to conservationists having been previously been spotted and photographed for Cardigan Bay Marine Wildlife Centre's records.
A marine company which carries out water sampling for the Environment Agency has offered the Sea Trust the use of its boats to carry out surveys all year round.
"Boat hire is expensive so this will give our volunteers a whole new capability," said Mr Benson.
"We are also looking at establishing more Sea Trust volunteer groups in Cardiff and Swansea to cover the Bristol Channel along with others in the northern Irish Sea.
"We aim to really boost our knowledge about the seasonality of our cetaceans and other marine megafauna such as basking sharks, sunfish and turtles."