Jones faces AMs for last question time before election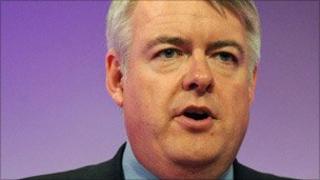 First Minister Carwyn Jones defended his government's record when he faced AMs' questions for the last time before May's election.
Opposition members attacked the performance of the Labour-Plaid Cymru coalition assembly government on the economy, health and education.
But Mr Jones said the administration was "proud" of its achievements.
The assembly dissolves next week ahead of the election on 5 May.
In the Senedd on Tuesday, Conservative AM Angela Burns referred to Mr Jones's speech to the Welsh Labour conference where he said it was easy for governments to become a "strategy factory". If re-elected Labour would make "delivery" its watchword, he said.
Ms Burns said: "What a complete and utter shame that it wasn't the watchword of the government that has just been here for the last four years. You've missed four years, you've let the people of Wales down."
Mr Jones dismissed her claim that Labour and Plaid had failed to meet half the commitments of their One Wales coalition deal, adding: "We're very proud of what we've done here."
'Happy with record'
He said more than 12,000 people were still in work because of ProAct - an assembly government scheme to help struggling businesses through the recession.
In an attack on the UK government, he said: "We're very happy with our record here in terms of what we have delivered, especially when we compare it to the destruction that's happening elsewhere in the UK."
Welsh Liberal Democrat leader Kirsty Williams said the assembly government had left Wales with a weak economy, underfunded schools and an NHS "that costs more but delivers a lot less".
"Is that the best that Labour and Plaid can deliver for Wales?" she said.
Mr Jones accused her party of "the ultimate breach of promise" through a UK government decision to increase university tuition fees in England.
He said there were "very many good reasons why people want to live in Wales to avoid the destruction being visited by the Lib Dems in England".
Plaid AM Gareth Jones, who is standing down at the election, said he had doubts about the Labour-Plaid coalition deal at the outset, but he was persuaded by the commitment to seek a Yes vote in a referendum on direct-law making powers for the assembly.
He hailed commitments to protect hospitals and "a series of commitments aimed at putting the needs of people and patients above the whims of managers in the health service".