Conservatives' Welsh assembly 'watershed' election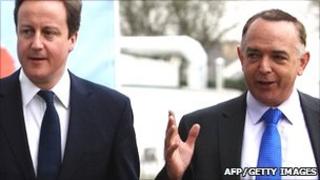 Voters have been urged by the Conservatives to "rid Wales of Labour" as the Tories launched their campaign for May's assembly election.
Nick Bourne, leader of the assembly Conservatives, revealed their key pledges when he unveiled the party's campaign for 5 May on Wednesday.
He said voters faced a "watershed" election when they go to the polls.
The party is promising to protect NHS funding and scrap business rates for small companies.
Mr Bourne said: "This election is a watershed because it is now more important than ever that we rid Wales of the Labour Party and put an end to its legacy of decline. Labour has run Wales down."
He said the gap between the Welsh and British economies had widened and that child poverty had increased.
The Conservatives launched their "new voice card", containing eight key election pledges, at the Wales Millennium Centre after the final assembly plenary session of the term.
The Tories have faced questions from opponents about how they would pay for a pledge to increase health spending in line with inflation, with critics saying it would force bigger cuts in other portfolios.
But Mr Bourne said: "Labour said they'd protect Wales from cuts - yet they are cutting the NHS in Wales by £1bn."
Asked how he felt about the safety of his seat as the party's top candidate in the mid and west Wales region, he said: "Not overjoyed, but I don't lose sleep about it."
He added: "Thanks to Labour, Wales is now the poorest part of the United Kingdom."
Mr Bourne said Wales had the highest rates of unemployment and child poverty, as well as the lowest standards in schools.
"Labour don't deserve another five years. It's time for change."
At the launch Darren Millar, Conservative AM for Clywd West, told BBC Wales: "It's about setting out a new vision for Wales.
"We've had Labour-led assembly governments since 1999.
"It's time for a change and that's why we are putting forward these very positive policies on education, the health service and to promote business and enterprise.
"All of our manifesto commitments will be fully costed."