Wylfa B nuclear protesters take to Anglesey bridge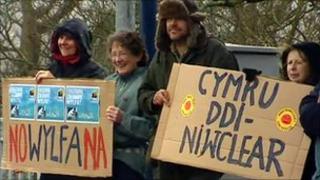 Campaigners on Anglesey opposed to a new nuclear power station have staged a protest at one of the two bridges linking the island to the mainland.
The group said they wanted to highlight difficulties in evacuating the island.
The protest came as the Daily Telegraph reported that Deputy Prime Minister Nick Clegg had cast doubt on whether new nuclear plants would ever be built.
The company backing a new Wylfa station has said it is reviewing proposals in the wake of events in Japan.
The current nuclear reactors at Wylfa are due to stop operating in 2012 at the latest, after already having been given an extension to their lifespan by nuclear inspectors.
Horizon Nuclear Power is developing proposals for a replacement with a plant of two or three reactors at Wylfa.
However, it has stated that it is taking stock of the situation following the events unfolding at the Fukushima Daiichi plants in Japan after the earthquake and tsunami.
The company's chief operating officer, Alan Raymant, said the whole industry had been shocked by what happened in Japan, and insisted that lessons must be learned for Wylfa.
But members of the anti-nuclear group People Against Wylfa B (Pawb) said they remained opposed to any new nuclear plant on the island.
Protesting at the Menai suspension bridge, Rob Davies from Pawb, said: "We don't think there is sufficient public awareness of the dangers that would arise if we had to evacuate.
"We are very aware, of course, of the problems in Japan and how tragic it is there, and unfortunately it is going to be there for a very long time.
"We don't think the nuclear industry is to be trusted in assuring us that their way of doing things is safe."
His comments came as the Daily Telegraph said Mr Clegg had reportedly questioned whether any private company could afford to build a new reactor in the UK, in light of increased safety and protection costs.
However, Horizon Nuclear Power has already gone on the record stating that plans for Wylfa are continuing to be developed.