Meg Burgess Prestatyn memorial bench theft 'shameful'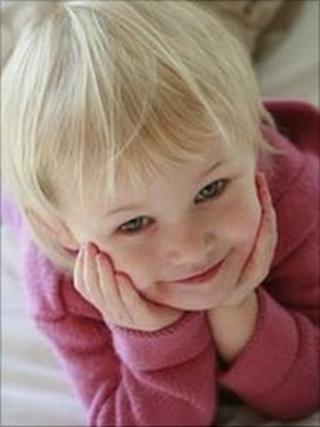 The parents of a three-year-old Denbighshire girl killed by a falling wall have criticised thieves who stole a bench from her memorial garden.
Meg Burgess died in Prestatyn in 2008, and the garden was made at the nursery she attended.
On Saturday, youths were captured on CCTV hauling the bench from its concrete anchor.
Meg's parents called it a "shameful, disappointing crime". Police are investigating.
Peter and Lindsay Burgess said in a statement: "We can only hope that the bench will be returned but having viewed the CCTV footage this would seem to have been a malicious act, intended to target a special place where children learn and play, and a bench with no financial value,"
Meg was killed when a wall collapsed on top of her at Ffordd Penrhwylfa in Prestatyn in July 2008.
She was with her mother and young brother at the time.
Friends of the family and staff at the Tiny Tots nursery created a memorial garden for her, including the bench with a small plaque.
"Staff, children and parents are extremely saddened by this news, not to mention Meg's family as the memorial garden was a very special place for everyone to go," said a member of the nursery staff.
Her parent added: "Only last Thursday our two sons Wilson and Jackson were sitting on the bench asking mummy about their sister which makes the theft all the more shocking.
"Such small and sacred sentimental tokens like this memorial garden offer a little comfort and symbolise people's love for Meg."
The family are still awaiting the outcome of an investigation into the cause of the wall collapse which killed Meg, which will decide whether any criminal charges will follow.
"We appeal to anyone having information to support us in retrieving the bench," said Meg's parents.