William Burges glass panels returning to Castell Coch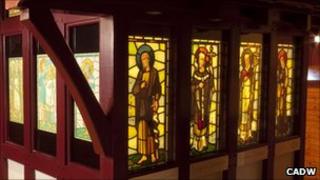 Two stained glass panels are to be displayed for the first time in more than a century at the fairytale castle from which they disappeared.
They will be shown at Castell Coch near Cardiff after being bought for £125,000 by heritage agency Cadw.
Designed by the castle's architect William Burges, the panels were part of a set of 20 in the chapel.
The two panels had disappeared in the early 20th Century but turned up at an auction last year.
The castle was rebuilt by Burges for the third Marquess of Bute in the late 19th Century and included a timber-framed chapel with images of saints in stained glass.
The chapel was pulled down some time before 1891, and records show all the panels were stored on site 10 years later.
Ten of the panels are on display in a gallery at Cardiff Castle while another eight are displayed in a model of the chapel at Castell Coch.
The whereabouts of the two missing panels had been a mystery until they failed to sell at a recent auction in Salisbury.
Cadw's inspector of ancient monuments Rick Turner, said he believed that when the third Marquess of Bute died, the panels were divided between his family members.
Some stayed in Cardiff while others may have been passed to other members of the family.
He said the £125,000 price reflected the quality of the items.
"The panels show a variety of Welsh and British saints and key biblical figures and are of the highest quality Victorian stained glass," he said.
"William Burges' work attracts enormous worldwide attention and the price reflects the artistic genius of the man and the rare quality of these glass panels."
Burges was also responsible for rebuilding Cardiff Castle, which was owned by the Bute family.
The panels will be displayed at Castell Coch in early summer.