Aberystwyth team studies Antarctic boulders in research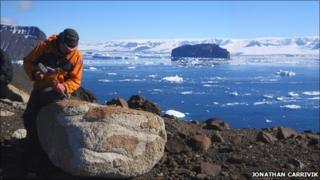 Boulders, some the size of a family car, are being used to help predict how the Antarctic ice sheet might behave in the future.
Scientists from Aberystwyth and Leeds have spent seven weeks on the Ulu Peninsula, part of James Ross Island.
They intend to date sample rocks collected on the island, to find out when the ice sheet was bigger and where it extended to.
They hope that this experiment will help predict its future.
The polar experts mapped in detail an area on the Ulu Peninsula of 600 km2 (231 sq miles).
They said the Antarctic ice sheet was of exceptional interest to geoscientists due to its size and northern location, which means that it reacts quickly and dynamically to climate change.
One of the team's priorities was to examine the distribution of "erratic" rocks. Prof Neil Glasser, from Aberystwyth University, said the term "erratic" described rocks and boulders that had been moved from their original location to a new area by glaciers and ice sheets.
He said the boulders demonstrated that the ice sheet expanded and then retreated across James Ross Island.
The island is made of volcanic rocks, but Prof Glasser and his team found hundreds of large granite boulders scattered across it.
"These granite erratics were ripped up by the Antarctic ice sheet and moved onto James Ross Island at some time in the past when the Antarctic ice sheet was much more extensive and thicker," he said.
"We were surprised both by the number and the size of these erratic boulders. Some are up to 3m in diameter, the size of a small family car."
But the scientists do not know when the Antarctic ice sheet transferred the granite boulders to James Ross Island.
They collected rock samples from the surface of more than 50 of the huge granite boulders, and they will be dated using a laboratory technique called cosmogenic exposure age dating.
Dr Bethan Davies from Aberystwyth University said it was a relatively new technique, but it would help show when the Antarctic ice sheet was bigger and where it extended to.
"We will then be in a position to understand better the possible future behaviour of the ice sheet and its likely effect on sea level rise," she added.