Profile: Gwent chief constable Carmel Napier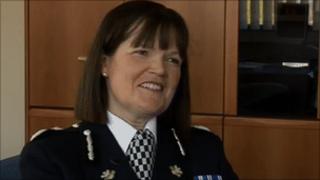 The appointment of Gwent Police's new Chief Constable Carmel Napier is a culmination of a police career spanning 28 years.
Prior to joining the Hertfordshire force she dreamed of being a professional viola player.
One of six, she and her siblings all shared a love of music.
In fact her inspiration to don police uniform followed her first experience as a victim of crime:
"When I was a child going to orchestra practice on the estate where I lived, some young people who weren't of the same mindset, kicked the case carrying my viola and broke it.
"That was the first contact my family had with the police, but it wasn't just the smashing of an instrument for me, it was a devastation of something that was an important part of my life.
"For my father it wasn't something that he could very easily replace and so I realised then that what may seem like a quick criminal damage is bigger than that, it impacts on people's lives and their sense of wellbeing and comfort."
Chief Constable Napier said it was the "professionalism" of the officers in tracking down the offenders that left a lasting impression upon her.
After graduating from university with honours in English and Music, she joined the Hertfordshire force in 1983: "I knew when I arrived on my first night, I would stay at least for 30 years - it just gripped me," she says.
She admits it was an interesting time to be a woman in the force but she liked the proactive nature of the job.
She went into criminal investigations, becoming involved with internal and external complex investigations.
"I've met the most amazing people - both victims and witnesses of the most serious incidents - it has restored my faith in humanity - there are amazing people out there and for every tragedy actually the community closely unites around things and people do come together."
After 17 years at Hertfordshire, she left, jumping from Det Insp to Det Supt at North Yorkshire, before being promoted to Det Chief Supt, head of CID and specialist operations, including the force control room.
In 2006 she joined Essex Police as Assistant Chief Constable in charge of territorial policing, which included five command units and Stansted Airport, with 4,000 officers under her.
After two years in Essex, she became Deputy Chief Constable in Gwent in September 2008.
She says of Wales: "I like its compact nature and that as a chief officer here you can be very influential, working closely with ministers.
"Wales has a great identity, I like its culture and its people."