Merthyr and Blaenau Gwent sixth form closures approved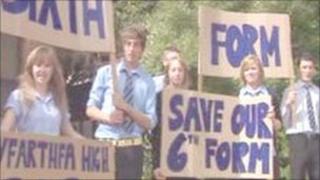 The sixth forms at four secondary schools in Merthyr Tydfil are to close with provision instead moving to a further education college.
Education Minister Leighton Andrews has approved plans to close sixth forms at Cyfarthfa, Afon Taf, Pen y Dre and Bishop Hedley schools in 2013.
Parents, teachers and pupils at Bishop Hedley had fought a long campaign against the closures.
Mr Andrews has also approved closure of three sixth forms in Blaenau Gwent.
This includes Brynmawr Foundation School which challenged the council's plans to close its sixth form at judicial review earlier this year.
The school said in a statement that governors, staff, pupils and parents at Brynmawr would be "shocked and dismayed" at the news.
Meanwhile, Bishop Hedley head teacher Maureen Harris called it an "extremely unpleasant" decision.
Around 2,500 letters were sent in objecting to the reorganisation.
The closures, to take effect from 1 September 2013, were proposed as part of the council's aim to create what it calls a Merthyr Learning Quarter at the site of Merthyr Tydfil college.
Councillors voted 20-8 in favour of the move last April, following months of investigations.
But supporters of sixth forms said the school-based facilities provided a supportive environment in which teenagers could excel.
'Generally unremarkarble'
Ms Harris said: "This decision is not made in the best interests of the pupils of Bishop Hedley who have now been denied the opportunity of choice, of choosing a faith-based sixth form education or a tertiary education.
"The leadership of Merthyr College acknowledges that such an institution cannot replicate the education offered by Bishop Hedley Catholic High School."
A letter from Simon Brindle, deputy director of the assembly government's schools management and effectiveness division, explained Mr Andrews' decision.
It read: "The four sixth forms provide education of a satisfactory or better standard to their pupils, although when set against all-Wales figures A-level performance is generally unremarkable."
It added: "The minister believes it is at least reasonable to expect that the Merthyr Learning Quarter will offer at least equivalent quality of education to that currently available in the school sixth forms with a reasonable chance that the standards will be higher."