Brymbo estate open space hill soil plan 'excessive'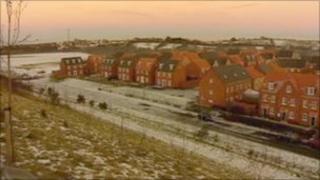 Plans for an open space on the former Brymbo steelworks site, near Wrexham, are set to be refused because it would need to truck in too much soil.
Developers want to improve a nine-acre (3.8 hectare) space where nearly 600 new homes have been built since 2006.
But council officers fear the 21,500 metric tonnes of material needed would amount to a large construction project.
They have recommended the plan, leaving a mound the size of a two-storey house, is rejected by Wrexham councillors.
The proposal is to create three flat areas, including the higher separate mound, along a scrubby hillside on the former steelworks site.
The two-year project would mean bringing in 4,000 cubic metres of topsoil, twice that amount of free-draining subsoil, and 9,500 cubic metres of other subsoil plus 100 cubic metres of drainage material.
The site is designated a land reclamation area and the scheme goes before councillors on Monday evening.
But a report to the planning committee said little information has been put forward to justify the scale of the works, while a level playing field could be created using much less material and disturbance via an earthworks design.
It said: "The scale and angular form of the proposed earthworks at the both ends of the site are a particular concern.
"The mound at the southern end would be up to 6m taller than existing ground level - equivalent in height to a two-storey house.
"The mound at the northern end is not illustrated by a cross section, but would be up to 4m higher than existing ground level.
"The proposed contours indicate angular bunding and 1:2 steep slopes, which on this scale would be very prominent and unsympathetic."
It added that the proposal was acceptable in principle but the amount of material to be imported was "excessive".