Funeral road rage: Call for more respect among drivers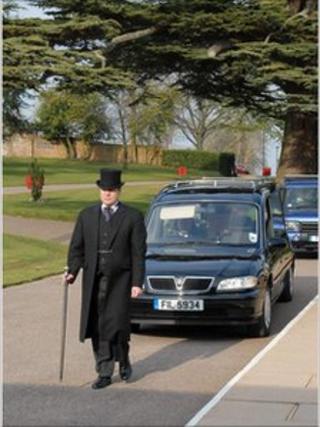 Funeral directors are urging drivers to show more respect after a survey suggested road rage against corteges has become commonplace.
Research found more than half of drivers had seen others cutting into a procession or overtaking aggressively.
One in six had seen drivers making hand gestures or behaving threateningly.
But three out of four drivers who took part in the Co-operative Funeralcare survey said they would consider pulling over to let a funeral cortege pass.
Phillip Davies, who runs a funeral service at Fforestfach, Swansea, said: "I've had to put up with drivers hooting their horns, gesticulating rudely and using bad language.
"It doesn't happen that often, but if it happens once then that's once too often isn't it?"
He called for people coming into contact with a funeral procession to think before they act.
"The people who make these gestures should think how they would like people to react if it was the funeral of their mum or dad or brother or sister," he said.
"It's a question of how you are brought up.
"As a young lad I was taught to show some respect to my elders, and if a funeral cortege went by and you were wearing your hat you would take it off."
Co-operative Funeralcare said one in five corteges were disrupted directly as a result of lack of concern or awareness by other road users.
David Collingwood from the company said the increase in traffic and people's busier lifestyles were factors.
"Other road users tend to be so impatient nowadays and their main concern is get to their end destination as quickly as possible, regardless of other traffic on the road," said Mr Collingwood.
Almost three-quarters of staff questioned said there had been an increase in rude behaviour within the last five years.
"When it comes to paying your last respects to someone very close to you, understandably you want the funeral to go smoothly and surely a little respect and courtesy from passing motorists is appreciated during one of the most difficult times of your life," added Mr Collingwood.
Peter Rodger, chief examiner of the Institute of Advanced Motorists (IAM), said "With the increasing pace and pressure that people feel in life, it is not surprising that there is less respect and patience for funeral processions, with the perceived delay they represent.
"All drivers should be prepared to show tolerance towards other traffic - which includes behaving respectfully around a funeral procession."
More than 2,000 drivers took part in the survey carried out between 4 and 28 January, 2011.