Prince William refused table at Anglesey restaurant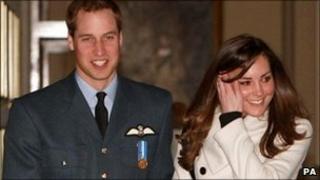 Prince William was turned away from a restaurant when it did not have room to seat the future king and his friends.
The prince was refused a table at Seacroft restaurant in Trearddur Bay, Holyhead, not far from where he serves as an RAF search and rescue pilot.
One of the restaurant's chefs was off sick, so it was not able to cope with the prince and about 20 others.
The Seacroft was asked to respond, but a spokesman refused to comment.
The second-in-line to the throne is based at RAF Valley on Anglesey.
He and a group of friends had intended to eat at the restaurant on Sunday.
The operational commander of Prince William's unit, Sqn Ldr Iain Wright, said: "The plan was to eat there, but unfortunately they had one of their chefs off sick so they weren't able to cope with the number that we had brought. And so we found another location and we moved on."
A local businessman, Jonathan Campbell, 39, said the restaurant phoned the nearby Trearddur Bay hotel to see if they could take the party.
"They thought it was a joke that it was Prince William and his buddies, and they had to ring three or four times and say 'no, this is real'," he said.
Shocked
But Mr Campbell said he was not surprised the party was turned away from the Seacroft.
"We've got to pre-book, he's got to pre-book, so it's only fair," he said.
Marianne Swanner, an engineer visiting from Orlando, Florida, was shocked the prince had been turned away.
"In the States, if [President Barack] Obama wants to go there, they'd have let him," she said.
"They would have cleared it out and let him in."
Prince William is preparing to marry Kate Middleton at Westminster Abbey on 29 April.