Severn bridge cash-only toll shut 'for weeks' by fault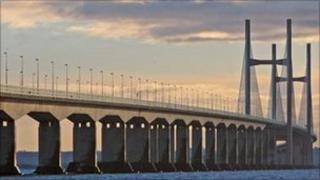 Motoring organisations are calling for a fault with one of the cash-only lanes on the second Severn crossing to be fixed.
One of the two automatic coin booths on crossing has been out of action for weeks because of a broken sign.
The AA and RAC have called for the lane to reopened in time for Easter.
Severn River Crossing plc said new signs were on order and the lane should reopen "in the very near future".
The firm, which also operates the M48 Severn Bridge, said the "variable matrix sign" broke down at the end of February.
The Second Severn crossing has 13 toll lanes. The firm has told drivers that lane 12, the last but one on the far right of the payment area, is closed for "health and safety" reasons.
One driver complained he had to queue for 19 minutes even though he had the cash for the toll.
He has asked a £5.70 toll refund because of the delay he experienced trying to cross in to Wales.
He emailed the company: "If you cannot collect the tolls in a reasonable time, the gates should be opened to allow traffic to pass freely.
"This practice has been adopted at the Dartford crossing of the Thames, and I do not find credible your explanation that you have no power to do this unless instructed by the police."
He added: "Of the two automatic coin booths, one was out of commission (for 'health and safety reasons') and the other ceased functioning for a time.
"There were no traffic marshalling measures in place, and no means of informing waiting customers of the delay."
'Customer needs'
In a statement, Severn River Crossing plc said the coin-collecting booths were not a requirement of its contract.
Paul Watters, for the AA, said: "This is a PFI (public finance initiative) contract so it should be going beyond what the legislation says and serving the customer needs.
"This is a very busy time of year and the tolls are payable in to Wales.
"People will be preparing for the holidays, so it does not give a very good impression to visitors if they are being held up unnecessarily."
An RAC spokesman said: "This problem is clearly causing unnecessary congestion over a very busy crossing that will frustrate those motorists stuck in the queues.
"It really is important for the operator to get it fixed and help keep the traffic moving."