Strike-hit Brecon High School head teacher suspended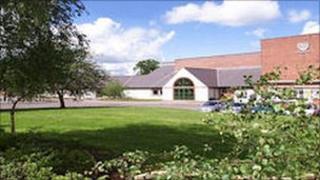 The head teacher of a troubled Powys secondary school has been suspended while an investigation takes place.
It follows six one-day strikes by a majority of teachers at Brecon High School against compulsory redundancies.
Powys council said the head Ingrid Gallagher had been suspended while an inquiry took place "into concerns that have been raised".
It said the decision was "neutral" and was not disciplinary action.
Union members have staged strikes against six job cuts, with two posts lost through compulsory redundancy.
The decision to suspend Mrs Gallagher followed a meeting of the school's governing body and officers from the council on Thursday.
A council spokesman said: "The action allows an investigation to be carried out into concerns that have been raised."
Chair of governors, Councillor David Meredith, said the governors would be working with the council to re-build confidence in "our school and continue to deliver excellent education achievements".
Many of the school's 800 pupils stayed at home as the majority of Brecon High's its 45 teachers took action on 17, 30 and 31 March and 5, 6 and 7 April.
But as the industrial action came to an end, the teaching union NASUWT confirmed that two teachers had been pulled out of lessons to be told they were being made redundant.
The NASUWT has accused the school's governors of financial mismanagement and said they had turned a £100,000 surplus into a projected £650,000 deficit in three years.
The school denies it has failed to take action to address a budget deficit, which it claims has been caused by a reduction in funding.
Mrs Gallagher has said the school has more staff than it needs.
The school chair of the govenors, Paul Martin, resigned last week over the problems to allow someone with more experience to take over.