Five Jobcentre Plus offices in Wales join strike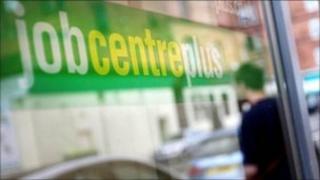 Staff at five Jobcentre Plus offices in Wales are taking part in a strike over working conditions and targets.
Members of the Public and Commercial Services Union are staging the action at 37 UK offices, including Bangor, Newport, Bridgend, Pembroke Dock, and Caerphilly.
The Department for Work and Pensions (DWP) said it was disappointed by the decision.
It comes after talks broke down and a 70% vote in favour of strike action.
A two-day strike was held in January after a decision to convert seven benefit processing offices into "contact centres," with staff re-allocated to taking calls from the public.
Since then the dispute has escalated to include staff at all 37 contact centres.
The union claims members are prevented from providing a service because of "unnecessary and unrealistic" call centre targets.
PCS officer Katherine Williams told Radio Wales: "The problem is that management obsessed with targets. We should be able to use our judgment about how long a call takes.
"We want to spend the right amount of time with the person on the phone. It's very difficult doing that - and we can potentially be disciplined if we spend too long on the phone with somebody.
"Most people would be pleased if we could actually answer and deal with the query on the phone the first time they ring up.
"It's a very complicated benefits system and navigating that is very difficult and what somebody doesn't want to have happen to them is be fobbed off on the phone and be rung back some number of hours later by another member of staff that's also very hard pressed.
"Management are absolutely adamant that the call-handling time targets and the number of calls we take is more important than how we deal with people on the phone."
The DWP said call centre staff retained good terms of employment.
'Value for money'
In a statement, the DWP said three-quarters of staff across had not voted to go on strike.
"The contact centre staff at DWP have good terms of employment including generous holidays, and have a good amount of flexibility.
"But we have to ensure that our service is available when our customers, who include some of the most vulnerable people in the country, need us.
"We use performance measures to ensure that performance and productivity are high, and we deliver value for money for the taxpayer."
The strike ballot of 7,000 union members in March had a turnout of 43%.