Prince William is relevant to Wales says Brian Hoey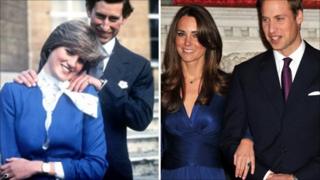 Prince William and his work at RAF Valley has done much to improve the perception of the royal family in Wales, according to royal biographer Brian Hoey.
Mr Hoey from the Vale of Glamorgan, said the role of the prince of Wales would need to be redefined for 21st Century Wales.
He said there was now a great deal of warmth from Welsh people towards the prince and Kate Middleton in the build-up to their wedding on Friday.
Mr Hoey, a writer and broadcaster for 40 years, has written 25 books, many of them about the British royal family.
Speaking to BBC Wales, he said: "I think the royal family has a great relevance in Wales particularly with Prince William serving with the RAF in Anglesey and having a home here and it being the first place he and his bride will live for the next two years.
"This is not quite so true for the current Prince of Wales who doesn't spend much time here.
"The role of the Prince of Wales will have to be looked at again.
"If you have a redefined role for the prince of Wales when William takes it on, it will have to be a much more practical role and it will have to be his principal role. He will have to have a residence in Wales and a physical presence."
Mr Hoey suggested that the prince could have an apartment in Cardiff Castle and even explore the possibility of a role within the Welsh assembly.
He said William's wedding did not initially seem to have captured the public imagination like his father's but there had been a recent groundswell of public support.
"In the last week we have seen enthusiasm in Wales and the rest of the country growing," he said.
"There is a huge amount of interest now and I think the wedding has totally captured the public's imagination - a few weeks ago people seemed indifferent.
"I think there has been a real swell of goodwill and affection, perhaps mixed with a bit of sympathy that this not the semi-private affair they both wanted."
Mr Hoey added that Miss Middleton must not steal attention from the rest of the royal family if she is to succeed after her marriage to Prince William.
And he said she should heed lessons learned from Princess Diana's ill-fated marriage.
On 29 July, 1981 some 600,000 people filled the streets of London to glimpse Prince Charles and Lady Diana Spencer on their wedding day.
An invited congregation of 3,500 were at St Paul's Cathedral and an estimated TV audience of 750m watched as it happened - making it then the most popular programme ever broadcast.
"Kate has been welcomed but I'm not sure she has the slightest idea what it's going to be like to be a member of 'the Firm' as the royals like to describe themselves.
"It sounds dreadful but it's inevitable. You only have to look at Mark Phillips, Anthony Armstrong-Jones and Sarah Ferguson. They have all been cast aside, really. They are never fully accepted. They are tolerated."
A writer and broadcaster who has followed the royals for over 40 years, Mr Hoey said to succeed Miss Middleton would need to learn from the woman whose engagement ring she now wears.
"If Kate wants to be successful she is going to have to be invisible, merge into the background and not become competition," he said. "The royals loathe competition. Charles hated the fact that Diana eclipsed him.
"For Kate it may not be easy as, like Diana, she is good-looking. Nature has been kind to her."
Mr Hoey said that this royal wedding was inevitably going to be compared to July 1981.
'Realists'
"They are not so keen now," he said. "We are less reverential, less deferential, which is no bad thing.
"But I don't think we want to be cynical. We welcome the wedding. It's a ray of sunshine in a fairly dull national scene, certainly economically."
Mr Hoey, who will take part in BBC Wales' coverage, said everyone had become more realistic in their approach to royal marriages.
"We all hope it's going to be wonderful and wish them every happiness in their future together. But nobody within or without the royal family would be surprised if it didn't work out."
As to those who say that Prince William's growing popularity should allow him to follow his grandmother onto the throne at the expense of his father, Mr Hoey is adamant.
"People are going to want it but it's not going to happen," he said. "Under hereditary rules the throne goes to the next in line of succession.
"He has a long, long time to wait until he succeeds to the throne."