Vote 2011: Lib Dems pledge support for Welsh farmers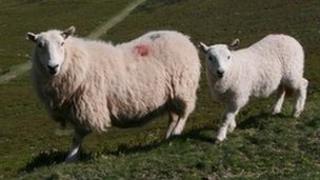 Liberal Democrats have pledged support for agriculture in a manifesto for farming.
On the campaign trail for May's assembly election, the Conservatives offered protection for communities at risk of flooding.
Labour said it would fight against the threat of a "lost generation" of unemployed young people.
And Plaid Cymru leader Ieuan Wyn Jones highlighted policies on improving broadband and mobile connections.
Welsh Lib Dem leader Kirsty Williams said farmers faced increasing costs and "never-ending" paper work when she launched the manifesto at Sennybridge livestock market in Powys.
She was joined by Wyn Williams, the party's candidate in Montgomeryshire. The Lib Dems are campaigning to hold on to the largely-rural mid Wales seat which they lost to the Conservatives at last year's Westminster general election.
During a visit to north Wales, Hilary Benn, shadow leader of the House of Commons, appealed to disaffected Lib Dem supporters to "come home to Labour".
Meanwhile, Labour welcomed the defection from Plaid of Rhondda Cynon Taf councillor Tina Ludlow - a decision Plaid said let down local people "who voted for a Plaid Cymru councillor, not a Labour one".
'Working together'
Plaid leader Mr Jones visited Pontrhydfendigaid, Ceredigion, where local people have erected their own phone mast because of the lack of mobile signal - an approach Mr Jones said he wanted to see more of.
"The private sector has failed to tackle this issue and so Plaid Cymru wants to develop a national programme of working together with communities to install masts on publicly owned land," he said.
The Welsh Tories are proposing to designate land close to rivers, lakes and the sea as "blue belt".
The Conservatives said that as on green belt land, house building would effectively be prohibited to protect against flooding.