John Cooper trial: Fibres 'link' to murders questioned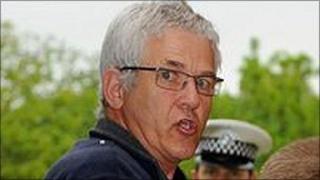 An expert has been quizzed over evidence said to link fibres to a man accused of two 1980s double murders and attacks in Pembrokeshire in 1996.
John Cooper's trial has heard that glove fibres found near his home matched samples near Peter and Gwenda Dixon's bodies.
But defence teams at Swansea Crown Court have suggested samples could be "contaminated".
Mr Cooper denies murdering Richard and Helen Thomas, and the Dixons.
The 66-year-old from Letterston also denies separate charges of rape, indecent assault and five attempted robberies in Pembrokeshire.
On Tuesday, fibre expert Roger Robson gave evidence for the prosecution on material from a glove found in a hedgerow near the defendants house in 1998.
He said it matched those found on foliage used to hide the bodies of Oxfordshire holidaymakers Peter and Gwenda Dixon in 1989.
DNA profile
Small fibres matching those from a sock worn by Richard Thomas, who was murdered in 1985, were found in the pocket of a pair of shorts in the defendant's house, the court heard.
The prosecution has said that blood matching the DNA profile of Mr Dixon has also been found on the garment.
The court also heard that fibres from a pair of gloves found in Mr Cooper's house were discovered on a shotgun, hidden in a hedgerow near the village of Sardis, Pembrokeshire.
On the same gun, the prosecution has said that blood matching the DNA profile of Mr Dixon has also been found.
The trial was told forensic experts had taped numerous surfaces thought to be connected to the crimes, including victims' skin.
The tapings had then been sealed.
Tapings from the clothing of a rape victim and a victim of indecent assault were also analysed, the court heard. This related to the attack on a group of young people in the Milford Haven area in 1996.
Mr Robson told the court that fibres matching a pair of gloves found near the Sardis robbery in 1996 were found on the clothing.
'Old cases'
Mr Robson said "he had never worked on a case with as many links as this".
But cross-examined on Wednesday, defence counsel suggested that the fibres found may have been transferred by contamination of samples.
Expert, Mr Robson, said accurate records should always be kept when exhibits were opened, examined and repackaged.
However, he said it was "not untypical for old cases for this not to happen on every occasion".
The case continues.