Royal wedding fan Anne Daley's Westminster Abbey camp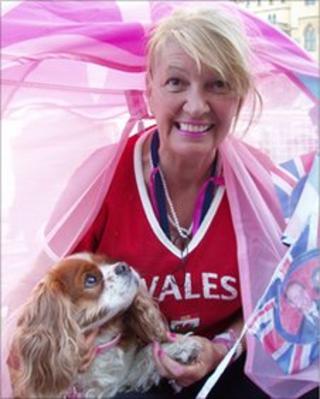 One day to go before the royal wedding and people are already starting to set up camp ready to see Prince William and Catherine Middleton on their big day.
Anne Daley, 55, from Cardiff, has pitched her tent just yards from Westminster Abbey.
She shares the spot with Camilla, her sister Judith's three-year-old King Charles Spaniel.
She said: "We want to see the great occasion, with Miss Middleton marrying a prince."
Ms Daley, a property landlord, said the atmosphere in the area, where 1,900 wedding guests are to gather for the royal event, was "sensational".
She said: "The atmosphere is similar to when Wales won the Grand Slam. Everybody's euphoric really."
Talking about Prince William, she added: "He comes to Wales a lot, he loves the Welsh people. I've never seen them. I just want to see what it's like - I want to see the dress, the flowers.
"It's not an arranged marriage. He's been given every chance to choose his own bride. They know each other well enough."