Holyhead coastguard station protest rally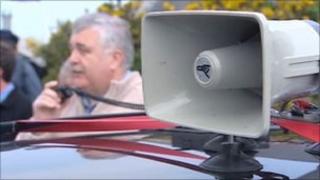 About 150 people have taken part in a protest outside Holyhead coastguard station on Anglesey which is threatened with closure.
It is planned to reduce 18 UK stations to eight to "modernise" the service.
Milford Haven in Pembrokeshire is also under threat as the Maritime and Coastguard Agency (MCA) seeks to save £210m over 25 years.
The MCA has said it must be more effective. A public consultation ends on 5 May.
Holyhead mayor, Councillor J V Owen, said the protest was a way for the "people of Holyhead, and indeed Wales", to say "you are wrong in what you are doing, change your mind".
He added there might be room to improve the service because of new technology "but it doesn't necessarily mean closing vital stations".
"I don't think you can improve services by chopping, chopping, chopping," he added.
Mr Owen said it was clear that the real "determining factor" was financial.
The rally has been organised by the coastguard union, the PCS.
Its branch chairman in Holyhead, Keith Roberts, said: "It's five days to go before the end of the public consultation over the future of Holyhead coastguard station, and we advertised the rally as five days to save the coastguard."
More than 200 people turned out at a previous protest rally in Holyhead on 19 February, and over 130 people attended a public meeting on Anglesey in March.
Fred Caygill of the MCA said: "The consultation closes on 5 May. If anybody would like to respond to it they have until that date to do so."
Under the MCA's plans, Wales would see the closure of Milford Haven and Holyhead with the station at Mumbles, Swansea, becoming one of five sub-centres open during daylight hours.
Emergency calls overnight would be handled by a 24-hour station on the Solent on the Hampshire coast.
The MCA has said the changes will give it more flexibility to manage the greatly varying demands of its workload.