Royal Welsh marks homecoming in Cardiff parade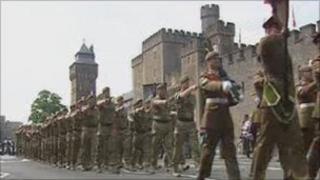 Soldiers from the 2nd Battalion The Royal Welsh have paraded through Cardiff to mark their return home from a tour of Afghanistan.
The regiment said the event was significant because it officially marked the end of two years of operations in the country.
B (Rorke's Drift) Company marched from Cardiff Castle to the Millennium Stadium on Saturday afternoon.
Soldiers attended a remembrance service and also received medals.
Their parade was led by the Band and Corps of Drums of the Royal Welsh and Taffy the regimental goat.
A reception for the troops was held at the Millennium Stadium.
The Royal Welsh said the parade was "hugely significant" as it officially marked the end of a two-year commitment in Afghanistan, which saw three of its companies in action.
C Company went on a tour of Afghanistan in February 2009, followed by A Company in July of that year and then B Company in July, 2010.
The 150 members of B Company went to Helmand province, and returned home in February.
They were providing a "ground-holding" role near the regional capital of Lash Kah Gar for much of the time.
During the tour, four soldiers were injured, but there were no fatalities.
Major Mark Beynon, officer commanding B Rorke's Drift Company, said: "It gives us a chance to remember those who didn't come back, who paid the ultimate sacrifice, and families who had to deal with the uncertainty.
"I think it's really quite tough for these young guys to go to a place like Afghanistan.
"It's quite a challenge just to get through the daily business of surviving and living. Some of the conditions we have to work and operate in for long periods of time lack basic things like electricity and running water, before you get on to providing the security that we're there to do."
Pte Shaun McAuliffe, from Neath, who returned in February, was on the parade.
He said: "It was hard work. When I first went out there, it was rather warm and then, towards the end of it, the temperature just dropped so much.
"It was tough but you got your good days, you got your bad days. But all the boys I was with, were all 100% dedicated and professional and that made the job a lot easier."
In previous tours in 2009, the battalion lost L/Cpl Chris Harkett when he was killed by an improvised explosive device (IED) as he provided covering fire on a Taliban stronghold near Musa Qala.
The 22-year-old from Pontardawe, near Swansea, was described as a soldier who displayed "bravery and selfless commitment" by his colleagues.
Pte Richard Hunt, 21, from Abergavenny. became the 200th British soldier to die in the Afghan conflict in August 2009 when his vehicle was hit by an explosive device.
A few weeks later, in September 2009, Pte James Prosser was killed by an explosion.