Wales election campaigning restarts after royal wedding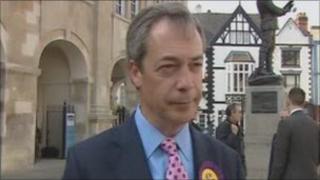 Candidates were back on the campaign trail ahead of Thursday's assembly election after a brief pause on Friday for the royal wedding.
On the final weekend before Wales goes to the polls, the UK Independence Party were among those trying to win votes.
Leader Nigel Farage, whose party is pledged to abolish Wales' 60 AMs, said his party was the "voice of opposition in Wales".
Labour, Plaid Cymru, the Conservatives and Lib Dems were also campaigning.
UKIP is not putting up any candidates in any of 40 constituencies in Wales but is appealing for people's second votes to elect a regional AM.
That is despite being committed to abolishing all AMs at Cardiff Bay.
Speaking in Monmouth in support of David Rowlands, UKIP's list candidate for south east Wales, Mr Farage said: "All the other parties are virtually merged together.
"They all agree on building windfarms everywhere, on having Europe making most of our laws.
"They're very happy that more jobs and more money is spent in Cardiff on a whole new class of politicians.
"And we're the only people saying not only should we govern our own country, we shouldn't be wasting so much taxpayers' money on layer after layer of bureaucrats and new politicians.
"Put us in to the assembly and, as we've proved in the European Parliament, we will be your voice of opposition."
Mr Farage said two referendums had shown that there was a desire across the UK for devolved powers but "that does not mean we need to have an extra layer of politicians".
'Welsh affairs'
Mr Rowlands said: "The job could be done by our 40 sitting MPs at Westminster. They are already paid to do the job.
"We could bring them down to Wales one week in every month. They could then see to all current Welsh affairs."
Meanwhile, Welsh Labour were campaigning in Haverfordwest against proposals to close Milford Haven and Holyhead coastguard stations.
Plaid Cymru held a "walkabout" in Llanrwst as part of its "super Saturday" of street campaigning.
The Welsh Conservatives were in Barry, Vale of Glamorgan, to talk about getting communities more involved in running their local amenities.
The Welsh Lib Dems were in Chepstow to talk to local businesses about cutting red tape and freezing business rates for a year.