Firefighters tackle forest blaze near Bala, Gwynedd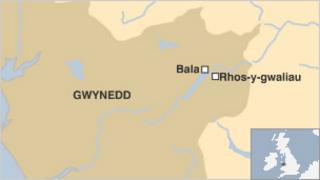 Fire officers have warned the public to take care in woodland after crews spent the night at a large forest fire in Gwynedd.
Two crews were still in attendance on Sunday dampening down at Rhos y Gwaliau near Bala.
Crews were called in a 1420 BST on Saturday and eight fire appliances worked through the night over 40 acres of woodland.
The North Wales Police helicopter has been deployed to monitor the fire.
The fire service has sent in relief crews with situation ongoing.
Fire officers say at its height, 50 firefighters were involved in tackling the fire.
There was extra help from a crew from Mid and West Fire and Rescue Service.
By 1030 BST, two fire crews remained.
The cause of the fire is not yet known. It is expected that firefighters will remain at the scene for some time.
Glyn Jones from North Wales Fire and Rescue Service said: "We would urge anyone enjoying the countryside over this bank holiday weekend to take great care.
"There has been little rain recently and the ground is very dry so it is extremely easy to cause a fire with a discarded cigarette or an unattended campfire for example.
"Fires like this place a tremendous pressure on our resources for considerable lengths of time, put the safety of firefighters and the public at risk and cause considerable damage to the enviornment."
He said they strongly advised people to act responsibly in dry conditions.
Meanwhile, South Wales Fire and Rescue dealt with seven grassland fires on Saturday, the worst of which broke out in Clydach Vale.
Three fire crews tackled the blaze on Saturday, with equipment including an eight-wheeled all-terrain vehicle.
North Wales Fire and Rescue said it was actively working alongside North Wales Police to combat deliberate fires. Anyone with information is asked to anonymously call Crimestoppers on 0800 555 111.