Vote 2011: Welsh party leaders set for election debate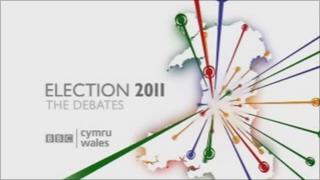 The four main party leaders in Wales are to go head-to-head in a debate on BBC Wales on Monday evening, only days before voters go to the polls.
Nick Bourne, Carwyn Jones, Ieuan Wyn Jones and Kirsty Williams will appear on the Leaders' Debate programme, which is being recorded in Newport.
The debate will be shown on BBC One Wales at 2240 BST.
In the final weekend of campaigning before the 5 May vote, parties continued to highlight key issues.
The Welsh Conservatives promoted their plans for community empowerment.
Candidate for South Wales Central, Andrew RT Davies, said: "Welsh Conservatives would give more communities the opportunity to get involved - co-operate - and take control."
Mr Davies was speaking on a visit to a pub, previously owned by the local community, in the Vale of Glamorgan.
"We want them to take over the running of local amenities like village halls, community centres, post offices and pubs."
Plaid Cymru signalled the last few days of the campaign would be devoted to fighting for the future of Wales - on the issues of education and a stronger economy.
The party's leader in Westminster Elfyn Llwyd MP insisted the party's commitments, including increased spending on infrastructure and health, were fully funded.
"The initial spending on these promises is about £20.5m in the first year, rising a similar amount on each and every year in the next five years," he told the BBC's Andrew Marr programme.
"It's easily affordable. It is not pie-in-the-sky by any stretch of the imagination."
Liz Newton, Liberal Democrat candidate in Newport West, told BBC Radio Wales the "same issues" of Wales underpeforming in the economy were being returned to in this election.
"The Welsh Liberal Democrats have many innovative ideas," she said.
"One of those is to expand private sector to help the private businesses to innovate and patent new ideas so we can get a new private sector economy for Wales and we would support those employers who have jobs to fill to skill-up those people who are young and unemployed to fill those spaces."
Labour said expanding the private sector should not be at the expense of the public sector.
Vaughan Gething, candidate in Cardiff South and Penarth told BBC Radio Wales: "One of our key pledges is the creating a Welsh jobs fund, which we think will create 4,000 training and job opportunties for young people each year.
"How we develop skills is crucial to our economic future."
The Leaders' Debate will be shown on BBC One Wales on Monday 2 May at 2220 BST.