Part of Merthyr cannabis haul stolen after seizure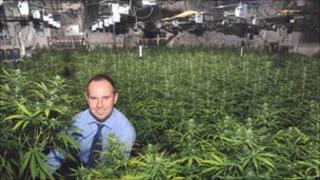 Police have launched an internal investigation after they seized 1,000 cannabis plants, only for part of the haul to be stolen.
South Wales officers uncovered a cannabis factory with £300,000 worth of plants at a former Merthyr nightclub.
But thieves later took some of the plants, estimated to be worth £15,000, before a neighbour alerted police.
The force said an investigation was reviewing if correct "scene preservation" procedures were followed.
"We are responding to a call of concern from a member of the public," said a spokeswoman.
"A quantity of cannabis plants were discovered at the property by police on 29 March, 2011.
"The professional standards department at South Wales Police is currently reviewing whether scene preservation protocols were correctly followed at the premises."
The cannabis factory was discovered at the former RM's nightclub in Bethesda Street.
Council waste officials were brought in to dispose of the plants.
Four men, aged 17 to 48, have been arrested and charged with jointly producing cannabis and are awaiting trial.