Call for Welsh universities to unite on plagiarism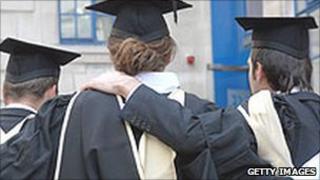 There have been calls for Welsh universities to be more consistent in dealing with students who plagiarise.
New figures show between 2008 and 2011, 927 students from six Welsh universities copied work.
At Cardiff 6% of essays checked over six years contained 75% or more copied material.
The Association of Teachers and Lecturers said it was "disturbing" a "determined hardcore" was still involved.
Copied text is usually detected by computer programs that check how much content comes from published sources.
Punishment varies from automatic fails on a specific assignment to a formal warning or expulsion.
ATL director Philip Dixon said: "It's disturbing, but the overall figures are quite small and amount to students who are just lazy.
"These students are stupid if they think they won't be caught and should question why they are at university in the first place.
"I think universities in Wales are doing a good job, but we do need a code of conduct across the higher education sector as to how we deal with plagiarism.
"You would expect some material in essays to match but nowhere near 70% or more."
Dr Mike Reddy is an independent advisor to the Plagiarism Advisory Service, the academic arm of Turnitin, the computer programme that detects copied material.
The academic, based at University of Wales, Newport, said awareness had improved and detection rates had increased thanks to new technology.
"It's becoming less credible for students to challenge accusations of plagiarism, but academic referencing skills have to be learnt.
'Disciplined'
"In the real world copying gets rewarded, we all cut and paste, and that's why patenting is needed, so for those 95% of students not considering a career in academia, referencing properly needs to be justified.
"I think the questions of intent have to be proved and separated from inadvertent plagiarism and poor referencing, but universities have to be consistent in their approach.
"We also need to update ways of assessing plagiarism."
The original Freedom of Information request asked how many students at six Welsh universities had been disciplined for plagiarism in the past three years.
Swansea had 258 proven cases while Aberystwyth investigated 198, with 106 confirmed.
At Glyndwr a total of 42 students had been subject to disciplinary action.
Overall 489 students were disciplined at Cardiff and Uwic in the 2008/09 and 2009/10 academic years.
The University of Glamorgan investigated 851 possible cases in the same period - 708 cases were referred as sufficiently serious for the formal disciplinary process.
21 students were expelled and 449 were subjected to lesser sanctions.
105 students received formal warnings while 133 of the cases were investigated and dismissed.
Figures for Bangor University were not available.
A University of Glamorgan spokesman said: "We take plagiarism very seriously, and we use both electronic detection methods and old-fashioned vigilance by lecturers and examiners to detect cheating."
Swansea said it "has rigorous systems and procedures in place to ensure that no one gains un-permitted advantage."
Turnitin is used by 98% of all UK universities and focuses on prevention rather than detection.
At Cardiff students can use it as part of the submission process.
A spokeswoman said it has adopted a "holistic approach to prevention, detection and penalties".
"The university seeks to ensure that a proportionate response is taken to proven allegations, and that students are provided with opportunities to develop the knowledge and skills required to prevent further incidences."
It added that in recent years the percentage of high matches of copied text against software has fallen.