Korma the chicken stows away in Ceredigion owner's van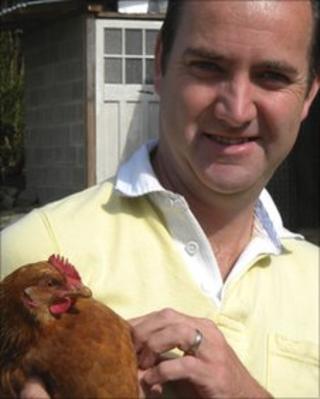 Plumber and poultry owner Andy Clamp could not believe his eyes when he found Korma, one of his 30 chickens, stowed away in his van.
He had already been surprised at the behaviour of the small brown layer hen, which follows him around everywhere.
Mr Clamp and his wife Katie keep the hens near Llandysul, Ceredigion.
The Poultry Club of Wales said for one chicken to be so affectionate was "very unusual" especially for a commercial breed.
Mr Clamp said Korma, a Warren or Isa Brown breed, had not been hand-reared and was not a pet, but seemed obsessed with him.
Named after the popular Indian dish, he says she is close by when he is cutting the grass or doing a bit of DIY at his remote rural home.
His other 29 hens make a run for it when he approaches them, but Korma appears to welcome a cuddle, and he cradles her in his arms like a baby.
The obsessive behaviour reached a climax last week when Mr Clamp had a plumbing job, and the chicken stowed away, not in a basket, but on a shelf in his van, under his coat.
"My van is quite old and makes a few noises, but I could here this rustling sound behind my head in the rear of the van that I hadn't heard before," he said of the unusual chicken "take away".
"It got so bad that I stopped and went to investigate. I couldn't believe my eyes when I saw Korma on a shelf under my coat. And underneath her was an egg, so she must have felt calm and relaxed.
"I didn't see her go in, but I'd left the van's sliding door open while I loaded it and she must have slipped aboard."
He added: "We've only had Korma a few weeks, but from the start there was something different about her.
"I might be sitting outside with Katie having a glass of wine, and Korma will come and sit on my legs. I was cutting the grass last night and I had to adjust the blades of the mower, and the next thing she was next to me clucking away."
Mrs Clamp, who used to run an animal rescue centre in Durham, joked she was "jealous of her husband's new bird" and was slipping down the pecking order.
She added: "I couldn't believe it when Andy phoned to say he'd found a stowaway in his van. I thought it was the cat, but it made sense when he said it was Korma.
"I've heard of chickens being quite tame, but they don't usually let people pick them up. Korma follows Andy everywhere."
Edward Page of the Poultry Club of Wales said chickens did form close relationships with people.
"We keep show chickens and we had some Brahmas (a breed) and they would come into the house, but it depends what sort of person you are. If you have a caring nature then animals will respond to that," he said.
"In this case, it's very unusual for one chicken out of a group of 30 to be so affectionate, especially from a commercial breed."