Potholes: compensation warning to councils in Wales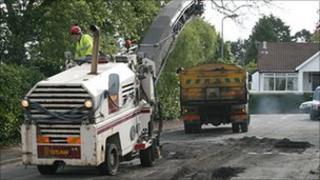 A road safety charity has warned that councils in Wales face escalating compensation pay-outs unless they take a new approach to road repairs.
New research by BBC Wales has revealed that councils paid out compensation of more than £1.3m over four years.
The Institute of Advanced Motorists (IAM) said councils needed to resurface roads properly, not just fill holes.
The body that represents councils in Wales said they were all looking at ways to upgrade their road networks.
A Freedom of Information request asked councils how much compensation they had paid out as a result of potholes or damage on roads in the past four financial years.
While some paid out as little as a few hundred pounds, others had spent hundreds of thousands.
Two councils at the top for pay-outs were Vale of Glamorgan with £245,967 and Newport, with £203,913.
Wrexham paid out £497,941 but the council said its total included all highway claims, such as those relating to snow and ice, as well as potholes.
In contrast, Gwynedd council said it had paid just £765 in compensation over the past four years.
Tim Shallcross, the IAM's head of policy in Wales, said unless councils repaired roads properly, they would incur "increasing costs of repairs and increasing compensation claims".
"There's [money] paid out in compensation but there's also the cost of defending claims, there's all the legal costs," he said.
"It's a minority of claims that are paid out so you can imagine the administrative and legal costs in refuting these claims mounts up as well."
He said most local authorities used traditional techniques to fix potholes involving "a few blokes with a bucket of asphalt".
"There are more modern repair techniques which work out cheaper and seem to do a much better job. Some local authorities use these," he said.
Freezing weather
"They obviously have pressure on budgets and it's time all authorities got together and pooled their knowledge and used the most cost effective and best means of repairs they can."
Local authorities are responsible for maintaining about 95% of the road network in Wales while the assembly government looks after motorways and major trunk roads.
Freezing weather over the winter left many roads with an increasing number of potholes, which form when water seeps into road cracks and freezes, breaking up the surface.
A spokesperson for the Welsh Local Government Association said: "The importance of maintaining the roads network is recognised by every Welsh council.
"They are aware of the cost of local authority claims as a consequence of road damage, and all councils are looking at ways to upgrade their networks under the current budget constraints, by either carrying out repair work or, in a few cases, making a conscious decision to 'invest to save' in this service area."
The BBC research suggested many councils had maintained or increased spending on road repairs in the past few years despite the difficult financial climate.
In February, the Welsh Government announced it would hand over £15m to local authorities to mend roads damaged by heavy snow and ice before Christmas, and replenish salt stocks.