Vote 2011: Welsh Labour hopes of majority remain alive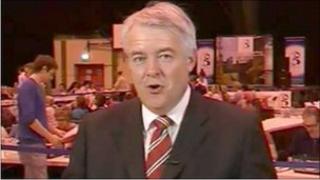 Labour's hopes of outright control of the Welsh assembly are still alive.
The party has won back the valley heartland seat of Blaenau Gwent and there is a recount in Llanelli, which was held by Plaid Cymru.
Labour, which has held Islwyn, needs 31 seats for an outright majority, which would mean it could govern alone.
Lib Dem-held Cardiff Central is said to be too close to call, and there is speculation the Conservatives may lose Cardiff North to Labour.
But Tories hope they could become the second biggest party, while the Greens and UKIP predict they may win their first seats, and both Plaid Cymru and Liberal Democrats fear they will suffer losses.
In the last assembly, Labour held 26 seats, Plaid 14, Tories 13, Lib Dems six, and one independent.
Labour sources have admitted it will be "incredibly tough" to win an outright majority, but First Minister Carwyn Jones said he did not know who those sources were.
He would not speculate on another coalition if Labour failed to get an outright majority, but he did rule out "getting into bed with the Tories".
He added: "What I'd like of course is a functioning, arithmetical majority".
Meanwhile, the Conservatives are waiting to see if they can exceed the 12 seats they won in 2007, with a significant gain anticipated in Montgomeryshire, which they won at the UK general election last year.
UKIP, which returned its first Welsh MEP at the last European election, said it was confident it would break new ground by taking one of the four regional seats in South Wales East. UKIP leader Nigel Farrage is expected at the count later.
David Rowland, the UKIP candidate at the top of the South Wales East list, said there was "utter dissatisfaction with the way the assembly has performed over recent years".
'Europe and immigration'
"We've been fighting on the failure of the assembly rather than Europe and immigration but people keep coming back to us about these issues... and the failure of the assembly to deal with them," added Mr Rowland.
Green Party officials said they were "quietly confident" of their first AM, and are targeting 7% of the vote in the South Wales Central region, to elect their Welsh leader Jake Griffiths.
Plaid, however, looks set to shed votes and seats. Party sources admitted it was a difficult campaign on the doorstep and they were "not expecting any gains".
Former Labour Welsh Secretary Ron Davies is now Plaid Cymru's Caerphilly candidate Plaid leader Ieuan Wyn Jones, said he was very proud of his party's performance in the last assembly government, when it was in coalition with Labour.
But he said he found it "inconceivable" that his party would go into coalition with either the Lib Dems or the Conservatives.
He refused to be drawn on whether he would face a leadership challenge if the party registers poor results in this election.
Meanwhile, Plaid deputy leader Helen Mary Jones was also refusing to be drawn on Labour hopes of taking her seat of Llanelli.
She said the result was "likely to be quite tight" and Plaid was "facing a strong national swing towards Labour".
Ron Davies, the former Labour Welsh Secretary who was in Tony Blair's first cabinet, and is now the Plaid Cymru Caerphilly candidate, said people wanted to send a message to Tories in Westminster and thought the best way to do that was through Labour.
He found it "profoundly depressing" that people were not voting on Welsh issues, adding: "It's very sad, it undermines the whole point of devolution."
Welsh Liberal Democrats may not be facing the electoral collapse that some opinion polls have suggested, but look set to return the fewest number of AMs since the assembly was created.
Tactical voting
Sources said the Lib Dems were "in freefall" in Swansea and Gower. They have had six AMs in each of the first three assemblies, but now look set to lose Montgomeryshire.
Nick Griffin, leader of the British National Party, at the count in Swansea Party leader Kirsty Williams is said to have faced a strong challenge from the Conservatives' Chris Davies in Brecon and Radnor.
Meanwhile, BNP officials in Swansea East said they had a "fabulous response" to their campaigning, and were "very optimistic". Nick Griffin, the leader of the BNP, who lives near Welshpool, Powys, is at the count.
While the first assembly election results was announced in the early hours of Friday, counting of votes cast in north Wales will not begin until later.
As well as assembly seats, people have also voted on whether to replace the first-past-the-post system for electing Westminster MPs with the alternative vote (AV).
Counting will start in the AV referendum at 1600 BST on Friday.