Fire wipes out wildlife habitat in the Brecon Beacons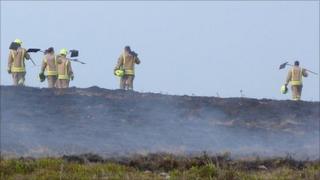 An important wildlife habitat has been wiped out by fire in the Brecon Beacons National Park and will take years to restore, say officials.
Park managers said 2,000 acres, along with hundreds of eggs from nesting birds, had been destroyed in the worst grass fire for 30 years.
Red grouse, voles, hares, moles and hen harriers also perished in the flames.
Meanwhile, South Wales fire chiefs are urging the public to report people who start fires deliberately.
For three days, nearly 2,000 acres of upland common and peat bog had been burning in a fire described as catastrophic in the Beacons between Trapp, Brynamman and Llandeilo.
The main fire is out, but some peat bogs are still alight, says the park.
Soldiers from the Infantry Battle School in Brecon, including some Gurkhas, helped fire crews and wardens fight the blaze.
The soldiers used quad bikes to carry water to "challenging and inhospitable" areas of the fire.
The national park said the area destroyed was a site of special scientific interest (SSSI) and one of its priority habitats.
It had worked to rejuvenate the area for about 10 years, but the site had been "wiped out" by the blaze.
A park spokeswoman said: "We had a good amount of rainfall last night and the main fire is out.
"However, we still have a few pockets of deep peat bog still on fire and we will be continuing to work on putting it out.
"We will continue to monitor these remote sites, and we will be in a better position next week to fully quantify how much environmental damage has been sustained at this site."
Nesting birds
The spokeswoman said red grouse, mice, hen harriers, lizards, amphibians and hundreds of eggs from nesting birds had perished in the fire.
She said the area would take years to restore.
Firefighters throughout Wales have been battling a series of grass fires.
Earlier this week, the fire service said they hoped to see prosecutions after tackling about 300 grass and gorse fires since Sunday, many started deliberately.
South Wales Fire and Rescue Service urged the public to make a stand by reporting people who deliberately started grass fires.
They said many had been started on purpose, and the costs financially and environmentally were enormous.
Head of risk reduction at the fire service, Martin Henderson said: "Wales has had the issue for years and it's time to make a stance and make a change.
"There is now an opportunity for the public to say enough is enough, to report those setting the fires, make this culturally unacceptable and to make a choice."