Spy row over sacked sleeping Port Talbot Tata workers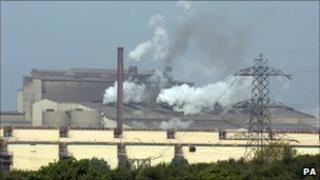 Steel-making giant Tata has been accused of "MI5-style surveillance" after sacking 13 workers it caught sleeping at work.
The men were captured on secret cameras sleeping through parts of their shift in mess room areas on the Port Talbot site.
The Community union has criticised the use of secret cameras, saying the firm has employed "Big Brother tactics".
Tata said: "No employer could ignore allegations of such malpractice."
The issue was first brought to Tata's attention by a whistleblower.
Last winter, a series of tiny cameras were installed in light fittings, smoke alarms and other fixtures.
In December, 17 riggers involved were shown the evidence and 13 were dismissed.
In the other four cases, Community successfully argued that evidence was not conclusive and they were kept on.
One worker is expected to be supported at an appeal tribunal by the union later this year.
Community's national officer Roy Rickhuss said the union was "extremely disappointed at the turn of events".
"Whoever made this decision - and they told us the decision was made in London...to go down the route of covert cameras just did not understand, had no idea or concept of the industrial relations that had been built up over a number of years in that plant," he said.
"They made a short-sighted decision that potentially can damage the relationships going forward, and we've still got our challenges to face."
He said those challenges were best met through "strong relationships" between the union and the company.
"We have made management aware of our feelings, they have given a commitment to review this policy, and we will be meeting with them shortly to try and restore good industrial relation," he added.
Tata Steel spokesman Robert Dangerfield said the whistleblower's allegation of a "systemic malpractice - sleeping on the job - in one part of the plant had to be investigated and its veracity checked".
"This is the real world of a potentially hazardous workplace with workers scattered over a plant covering 12 square miles - not a science fiction fantasy like Big Brother," he said.
"No employer could ignore allegations of such malpractice."
Mr Dangerfield added that the surveillance was the only practical way to gather objective evidence to establish the scope of the problem.
The mess rooms have tables, seating and cooking areas where workers can eat and prepare food and do paperwork when they are not operating heavy equipment.
Mr Dangerfield said: "This was not carried out with any sort of relish - everyone at Port Talbot was bitterly disappointed to uncover the malpractice after we had all worked so hard to successfully change everyone's work culture and attitude.
"Uncovering this malpractice was as dismaying to managers as to the union and, consequently, we took responsible action with regard to those individuals which was the only thing we could do in the circumstances."
He said Tata had learned from the issue and was still in close discussions with the unions.
'Warn people'
Professor of industrial relations at Wolverhampton University, Roger Seifert, said there were "very clear guidelines" about the use of CCTV by employers when dealing with employees.
"The most important thing is... trust, so what should normally happen is you should warn people that you are going to put the cameras in. You should consult with the workers and the unions about where they're going to be put in and why they're being put in, and the use they're going to be [put to].
"At that stage, you normally get rid of whatever problem you think is occurring anyway, but to do it secretly smacks of trying to catch people out in order to sack them and teach them a lesson and that's not really good industrial relations.
"Tata prides itself on good industrial relations and I think they've shot themselves in the foot here and made a big mistake."