New US X Factor host Steve Jones 'joins premier league'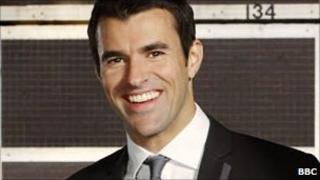 From humble beginnings presenting Wales' answer to Top Of The Pops, Steve Jones is now set to break America as he hosts the US version of The X Factor.
But how has the Rhondda-born presenter landed one of the most coveted jobs in television?
It is a question many will be asking as he joins fellow Britons Cheryl Cole and Simon Cowell on the hotly anticipated talent show on the Fox television network in September.
The dark-haired 34-year-old from Tylorstown started his career modelling for Esquire and Versace before moving into presenting.
It was the last thing his friends and neighbours expected of the "shy boy" who had plans to go to art college.
Tylorstown councillor Mark Adams said: "He was a shy boy in school, never demonstrative. He was also a very good artist - we expected him to go to art college.
"Without doubt he's a local boy made good. But his fame has been a quirk of fate. He was backpacking in Australia and was spotted by someone who asked him to model for Calvin Klein underwear.
"We're very very proud of what he's achieved. He's a really nice boy and level-headed."
Jones was just 19 when he saw his best friend Chris killed in a road accident as he cycled down Maerdy mountain.
"His best friend was killed in a pushbike accident and Steven witnessed it. He was coming down the mountain and a car hit him," said Mr Adams.
"That had a huge impact on Steven. I think that could be why he went travelling."
After a brief but successful modelling career, Jones got his first presenting job hosting Wales' The Pop Factory in 2000, where his chiselled jawline and charisma quickly earned him an army of female fans.
Ladies' man
His big break came when Channel 4 hired him as flagship presenter for its popular weekend entertainment programme T4, interviewing a plethora of A-list celebrities.
He quickly built up a reputation as a ladies' man, being linked in the gossip columns with the likes of actress Pamela Anderson and Oscar-winning Bond girl Halle Berry.
After several years on T4, Jones made his BBC One debut hosting Let's Dance for Comic Relief with Claudia Winkleman. In February 2011 he was joined by his former flame, The One Show presenter Alex Jones, who he dated when they were working on TV together in Wales. He claims she is the only ex-girlfriend with whom he remains friends.
Although proud of his Welsh roots, Jones once admitted he was desperate to leave the small valleys town where he grew up.
"I had to get out. Before I was 21, I was wild," he said in a newspaper interview.
"I embraced everything and if I hadn't got away from the valleys then I would definitely be in trouble,
"If I hadn't got that bus out at that particular time then I'd be in a right mess now. I'd be a failed model with drink and drug problems.
"Staying there was not an option. I live to work - it's about not wanting to go back."
But local people in his home town say he has never forgotten his roots.
"He's still got some very good friends here and he keeps in contact with a few of the boys," said Mr Adams.
"He visits his family every so often and he looks after them. But I don't think he comes back as much as he'd like - he'd be swamped by all the young girls!"
A family friend, Celia, said: "Steve is well respected in the community. I think he does come home every so often. Everyone is proud of what he's done in his life, it's nice to hear he's done well. You don't hear of many young people doing much with their lives."
Carolyn Jones, assistant headteacher at Jones's former school, Ferndale Community School, said: "He was a nice, polite, shy young man. There wasn't an indication of the heights he would go on to. We're really pleased for him.
"He was shy, he wasn't the first to stand up and get involved in things."
'Amazing opportunity'
With his movie star good looks, Jones briefly flirted with an acting career, enjoying a small part in the British film Angus, Thongs and Perfect Snogging and a minor role as himself in two episodes of the Channel 4 television series Plus One.
But although the presenter has now proved he is more than just a pretty face by landing the role of X Factor host, alongside former Pussycat Doll singer Nicole Scherzinger, is his charm enough to get him noticed in the States?
PR guru Max Clifford described Jones' new role as a "gig everyone would dream of", adding that it "puts him from obscurity to the premier league".
"Indeed, very few people in America would have heard of him at all, so he's gone from the fourth division right into the premier league overnight," he said.
Jones, who is expected to earn £1.25m for the role, described it as "probably the biggest job in presenting".
He added: "The ability to work day in and day out with Simon Cowell is a dream come true.
"I have been approached about working in the States before, but never felt right about those opportunities, but when The X Factor came up, I leapt at the opportunity."