579 drive in Wales with 12 penalty points, says DVLA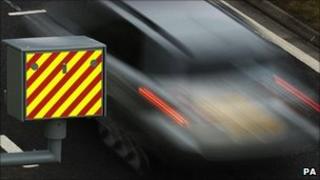 Hundreds of drivers in Wales are still legally on the roads despite reaching 12 or more penalty points, BBC Wales has learned.
Three people are still allowed to drive even though they have amassed 24 points, said the DVLA.
Twelve points usually means a temporary driving ban unless it can be proved it would cause exceptional hardship.
The DVLA said courts were able to use their discretion to decide whether or not to disqualify a driver.
A Freedom of Information request to the DVLA showed 579 drivers in Wales with 12 penalty points or more, as of 2 April this year.
This included three drivers, from Carmarthenshire, Cardiff and Flintshire, with 24 points.
Andrew Howard, head of road safety for the AA, said he understood why magistrates had discretion over disqualifications, but added that repeat offending should not be tolerated just because somebody's livelihood relied on being able to drive.
"You can't see why these people are repeatedly doing it - you should be able to see it coming," he said.
"The idea is that people get warned for this along the way and see their points totting up. The idea is to clamp down on repeat offenders.
"If you're a repeat offender and you drive for a living, that's not an excuse."
He said the number of disqualifications had not increased in line with the "rocketing" number of endorsements since speed cameras were introduced.
"Whether speed cameras have made some magistrates more sympathetic to the repeat offenders has to be the key question," he added.
The number of disqualifications in Wales fell to just under 8,000 in 2010 from more than 10,000 in 2009, and over 11,000 in 2008.
'Use their discretion'
The DVLA said it was a "record keeper" of the decisions taken by courts in sentencing drivers but was "not privy to the mitigating circumstances offered or accepted in any particular case".
A DVLA spokesperson said: "The courts are able to use their discretion to decide whether to disqualify a driver.
"The DVLA's role is to record the information provided by the courts.
"We have recently concluded a comprehensive review into how we communicate with the courts, and will implement any necessary changes to make sure that there are rigorous processes in place so that only those who are entitled to drive are allowed to hold a licence."
Elliot Griffiths, a Swansea magistrate of 38 years, said 579 drivers in Wales on the road with 12 or more penalty points was "not an inordinate number" and not out of step with the rest of the UK.
"Exceptional hardship is not laid down in law, it's the discretion of magistrates and I think that's right," he said.
"In London, you could still get about if you lose your licence but, if you are in rural Wales, and the local shop might be seven miles away, the impact is much greater.
"It's exceptional hardship, it's not just that it's a bit of a nuisance."
He said he was more concerned about the three drivers with 24 points.
"What must've happened is that they were able to use second arguments, different arguments, for exceptional hardship and the magistrates accepted it," he said.
Drivers are not entitled to make the same argument for exceptional hardship within a three-year period.