Welsh Guards granted freedom of Powys and Bridgend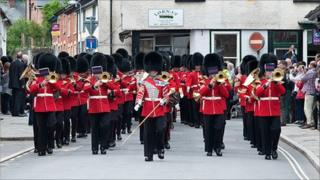 More than 100 Welsh Guards have marched through Presteigne ahead of a ceremony granting them the freedom of Powys.
The 1st Battalion Welsh Guards have also been granted the freedom of Bridgend and will attend a similar event there on Wednesday.
The 2 Company soldiers paraded through Presteigne town centre from 1230 BST on Tuesday.
They provided the guard of honour at the wedding of Prince William and Catherine Middleton.
There was an inspection following the march from the East Radnor Leisure Centre to the Judge's Lodgings in Presteigne.
The soldiers will move on to Bridgend on Wednesday, where council leader, Mel Nott, said the county had a "proud tradition of supporting our troops".
"Last year the 1st Battalion Welsh Guards were overwhelmed by the public's response to their welcome home march through Bridgend," he said.
He said Wednesday's march had deliberately been scheduled around lunchtime in the hope that "hundreds if not thousands of people" would line the streets to show their support.
The Bridgend march will leave the town's recreation centre at 1230 BST on Wednesday, arriving at the civic offices at about 1235 BST.
In summer 2009 the Welsh Guards took part in Operation Panther's Claw in Helmand in Afghanistan.
A number of men were killed during the tour and the regiment said they should never be forgotten.
The granting of the freedom allows the unit to be honoured, and entitles them to march through the streets of a town with "bayonets fixed, drums beating and colours flying".