Reservoir plunge survivor Denise Griffith on tragedy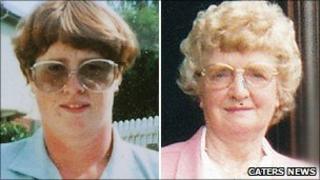 A woman who survived a reservoir car plunge which killed four family members has described her ordeal.
Denise Griffith, 55, from Pontypridd, says she was pulling her car into a lay-by to admire the view when she felt a shunt at Llanidloes, Powys.
She said in a letter to a newspaper: "A lovely day can turn into a nightmare and a tragedy in a split second."
Her husband Emyr, 66, foster sons, Peter Briscome and Liam Govier, 14, and mother Phyllis Hooper, 84, all died.
The tragedy unfolded at the Llyn Clywedog beauty spot on the afternoon of Wednesday, 20 April as Mrs Griffith and her family were returning in their Peugeot 807 from a family Easter holiday in the Machynlleth area.
Police have said that two vehicles were in collision, and another driver has been bailed.
Mrs Griffith managed to swim to the edge of the reservoir and escaped with minor injuries. But the rest of her family could not be saved, and Mrs Griffith refused to leave the reservoir until their bodies were recovered.
Shortly after the deaths, Mrs Griffith said she was devastated and asked to be given privacy to grieve.
Now she has given more details about the tragedy and about her family in her letter published in The Rhondda Leader.
"On the way home my mother and Emyr were discussing the lovely view," she writes.
"We were pulling into the lay-by when we felt a shunt from the back," she says.
"The car turned over and rolled and unfortunately there was nowhere other than the reservoir for it to end up."
Two fire crews and boats from Mid and West Wales Fire and Rescue Service were involved in the operation, and RAF Valley, based at Anglesey, sent a Sea King helicopter search and rescue crew.
"When I surfaced and saw my little dog Milly swimming to the rocks, I felt a small pang of relief to know that at least I had her to look after," wrote Mrs Griffith.
The family had been on a family Easter holiday in the Machynlleth area when the incident happened between their Peugeot and a Ford Mondeo.
Mrs Griffith said: "I have felt a strange sort of calm since the incident and I know that is through all the prayers that are being said for me from all over the world.
"This story seems to have touched a lot of people everywhere."
The family are well-known in their home town of Pontypridd, where they attended Bethany Baptist Church.
'House feels too big'
In the letter Mrs Griffith explains how she and her husband were unable to have children, fostering 98 over 23 years.
"I am hoping that I will continue to foster in the future," she said. "My house feels far too big just for one."
She explained how she and her husband moved back to Pontypridd from Aberystwyth in April 2004, which was a happy move for her husband as it enabled him to play his "beloved bowls" as a member at Taff Ely Indoor Bowls Club.
Mrs Griffith said he took their two foster sons to play table tennis weekly and watch basketball in the Rhondda at weekend, and that they were season ticket holders at Cardiff City.
"He was always happy to take the boys when sport was involved," she said.
Mrs Griffith went on: "I have lost two really good friends - my mother and my husband, who I loved dearly and shall miss desperately.
"I will miss doing things for the boys and I am going to find it difficult at times."