Carers Wales claims carers' efforts worth £7.7bn a year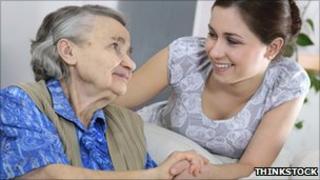 A charity claims the unpaid work done by carers in Wales is worth £7.7bn a year.
Carers Wales has issued a five-point plan calling for more support for the growing number of families looking after sick loved ones.
It estimates around 370,000 people in Wales are providing care that would otherwise cost the state £18 an hour.
The figure represents a rise by over a third since the last estimate in 2007.
"Carers contribute so much and they deserve better in return," said Carers Wales director Roz Williamson.
"Our society and public services could not function without the massive contribution made by the 370,000 carers in Wales and the six million carers in the UK.
"This contribution is something we can be proud of as a country, and demonstrates how strong our families and communities are.
"With an ageing population, caring is becoming a fact of life for every family.
"Yet, whilst families are meeting this challenge, many are struggling with little or no help, or facing cuts to the care services and benefits they rely on.
"Unless we urgently rethink how our society supports carers, we will see increasing numbers pushed to breaking point - forced out of work and into poverty, ill-health and isolation."
Carers Wales outlined five proposals the charity believes are needed to provide sufficient support to carers.
It wants an urgent review of carer's allowance, which it says is the lowest benefit of its kind and it is calling on the UK Government to rethink proposed cuts to disability benefits.
Councils are also being urged to protect funding for social care services to preserve the independence and dignity of disabled and older people while providing support to their families who care for them.
It also wants reform and sustainable funding of the care and support system to recognise carers' contribution and allow carers to live healthy lives alongside caring.
And a new approach to supporting carers involving all parts of the society has been called for.
That would include employer support in the workplace and being supported in communities.