Reeds used to cut pollution in Llanfyllin's River Cain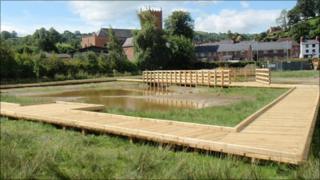 Reeds are being used as a natural solution to river pollution and flooding in a small Powys town.
The plants are part of a wetland area in Llanfyllin and are designed to purify drain water from a nearby car park before it flows into a river.
The reeds will also slow water entering the town's River Cain, which will reduce the risk of flooding.
The Cain is an important habitat for all sorts of wildlife, including salmon, trout and otters.
Reeds have been used on other projects as a way of cutting water pollution, and they purify water by absorbing pollutants.
The wetland area in Llanfyllin was built after the town council applied to extend a car park, and includes a boardwalk to the river and picnic areas. It is hoped the scheme will also attract anglers and tourists.
The Environment Agency's Richard Dearing said areas such as car parks contained a range of pollutants, including oils, sediment and hydrocarbons produced by the "combustion of fossil fuels", and collectively their impact could be damaging.
There was concern in Llanfyllin the pollutants from the new 80-space car park would end up in the River Cain, which is an important salmon hatchery and an area for trout, aquatic bug life, otters and kingfishers.
Llanfyllin county councillor Peter Lewis said: "The wetland area was seen as an opportunity to help the environment and boost the local economy.
"We hope the area will encourage more tourists. The boardwalk has access to the river and we hope this will encourage fishing."
He added: "It's going to take a few years for the reeds to become established, but before the wetland area we just had a pipe from the car park to the river."
The Environment Agency has worked with the council on the project.
Mr Dearing said it encouraged "sustainable drainage systems" like the wetland area as a method to enhance water quality, and manage surface water run off and water flow rates, "slowing them down so that they do not increase the risk of or cause flooding".
He said as the reeds matured they would absorb and break down pollutants.
He added: "There are other examples, but what is exceptional about this scheme is the wish of a community to enhance their river environment and protect the Afon Cain, and the commitment the community has shown in the development of the scheme."