Clare Pinch is Wales' adult learner of the year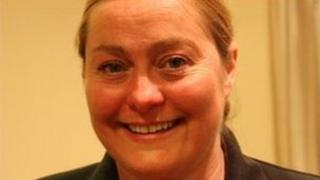 A woman who gave up nursing studies to care for her seriously injured son, then trained as a sports therapist, is Wales' adult learner of the year.
Clare Pinch, a mother-of-two from Port Talbot, also overcame a marriage break-up and a breakdown before retraining.
Ms Pinch, who has worked with Wales Rugby League, received her award at a ceremony at Brangwyn Hall, Swansea.
Richard Spear, NIACE Dysgu Cymru director, said: "Clare really stands out as an example to others."
Ms Pinch had earlier been presented with the vocational learner of the year award.
The independent panel of judges said she was "a worthy ambassador and an inspiration to others" for adult learning in Wales.
'Ambition to succeed'
Ms Pinch gave up training to become a nurse when her son suffered serious injuries in an accident, said the awards' organisers.
Shortly afterwards she was forced to deal with the end of her marriage, leaving home with no belongings, or clothes, and needing to establish a secure home for herself and her son.
She then suffered a breakdown and with her children went through many hours of counselling to help them overcome the traumas they had faced in their lives.
In 2006 Ms Pinch developed an interest in one of her two sons' rugby team and undertook a first aid course at Neath Port Talbot College.
This inspired her to enrol in a full-time sports therapy course, which she completed before moving on to a higher level.
She now works as a professional sports therapist and has worked with Maesteg RFC, travelled to America with the Welsh Warriors and also to France and Serbia with Wales Rugby League.
Speaking before discovering she had won the award Ms Pinch said: "After a difficult past it is now my ambition to succeed not only for myself but so that my children can be proud of me.
"Everyone can succeed in whatever they want to do but sometimes it takes time and a lot of effort."
Mr Spear paid tribute to her achievements, saying: "She has overcome hurdles and personal challenges and her tremendous achievements are down to her determination and resilience.
"Her story also shows how a short course or taster session can open new opportunities, and lead to higher level qualifications and a new career.
"Clare is an excellent ambassador for adult learning in Wales, and I'm sure her sons are very proud of her success."
The Inspire! Awards are organised by NIACE Dysgu Cymru, the adult learning charity which promotes adult learning in Wales, and recognises learners whose achievements have been inspirational or life-changing.