Fears over delays to Mullany honeymoon murder trial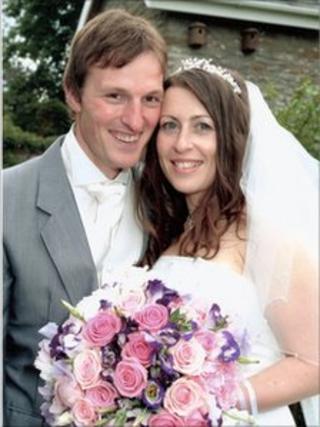 The trial of men accused of murdering a couple on their Caribbean honeymoon may face delays, it has emerged.
Two men accused of murdering Ben and Catherine Mullany in Antigua also face charges in three other killings.
The defendants' lawyers want them to stand trial for each murder separately and the director of public prosecutions said delays were a possibility.
The couple, from Pontardawe in the Swansea Valley, were shot dead in July 2008.
Two Antiguan men, Avie Howell and Kaniel Martin, have been charged with their murder.
They are also accused of killing mechanic Tony Louisa, 43, student Rafique Kareem Harris, 24, and Woneta Anderson Walker, a 43-year-old shop keeper.
They were due to stand trial for the Mullany murder on 23 May, but it is looking likely that date will be pushed back.
The accused men's legal team say they want all murder charges heard separately because a single hearing could be prejudicial.
Antiguan prosecutors have called the request "disappointing" as they claim it would be unfair to witnesses and victims' families, especially those related to the Mullanys, who would be travelling from overseas.
Director of Public Prosecutions Anthony Armstrong said he anticipated proceedings would start as planned but how they would progress would be a "matter for the court to decide".
He said: "Of course it is disappointing. Although no application has been made, there is the possibility it could cause delays.
"There are more than 70 witnesses - some of which are coming from overseas.
"I anticipate the trial will go ahead on 23 May, but there is uncertainty of whether all five murders will be tried at once or whether they will be heard separately.
"It would have been far more prudent for the defence to raise this issue at the assizes hearing in January, when the original date was set, rather than bring this issue two weeks before the trial is due to start."
Attacked
Mr Armstrong added he had been in regular contact with the defence lawyers who had not previously indicated an intention to challenge a joint trial.
Judge Mr Justice Richard Floyd said he understood the arguments of both sides, but left it to the court to decide on 23 May, or during Antigua's High Court May to July Criminal Assizes, which recently opened.
The newly-qualified doctor and her physiotherapist husband were staying at the Cocos Hotel in the south west of Antigua when they were attacked on the final day of their two-week holiday.
Dr Mullany died instantly after being shot in the head.
Her husband remained in a coma and died a week later after he was transferred home to Wales by air ambulance.
The couple were then buried in the grounds of the same church where they had married around four weeks previously.