Bridgend baby's first birthday after operation in womb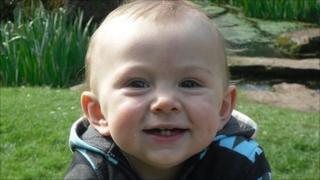 A family are celebrating their "miracle" baby's first birthday after he survived major experimental surgery while in his mother's womb.
Lucy Hutchins, from Bridgend, was told her unborn child had a 5% chance of survival after a 20-week scan showed half his diaphragm was missing.
Charlie Howells's abdominal organs had pushed into his chest and were stopping his left lung from growing.
But against all odds he survived and is celebrating his birthday on Saturday.
Ms Hutchins, 35, and her partner Richard Howells, 32, were told their unborn son had diaphragmatic hernia, a condition which affects one in 3,000 babies.
They were given three options: do nothing, have a termination or agree to have foetal surgery.
"We felt as though our whole world had collapsed. We felt absolutely mortified," said Ms Hutchins, a nurse at a GPs' practice.
"We were told over Christmas and had a three-week wait to see a consultant."
They agreed to the experimental surgery and met Professor Kypros Nicolaides at King's College Hospital London.
"People come from all over Europe to be treated by Professor Nicolaides," said Ms Hutchins.
"I was awake while he performed the foetal surgery at 24 weeks. Richard was there and my mother, along with 20 consultants standing on chairs.
"Professor Nicolaides inserted a small balloon to block Charlie's airway and fluid, which the baby normally spits out into the womb, was forced into the small lung to help make it grow.
"We didn't know if this would work, but at 35 weeks the balloon was popped and the lung had tripled in size."
Intensive care
Ms Hutchins condition was so delicate that she had to spend four-and-a-half months in London, some of it at King's College Hospital and some in an apartment. But she went the full term with Charlie, her first born.
He was two days old when he underwent a second major operation, this time to push his abdominal organs down to where they were supposed to be.
"During this operation a patch was put in to replace the missing half of his diaphragm. We didn't know until four weeks after the surgery that Charlie was going to survive. We nearly lost him a few times, but he did survive," Ms Hutchins added.
Following the operation Charlie spent seven weeks in intensive care.
Ms Hutchins also attracted interest from the National Geographic television channel, and her pregnancy was featured in the programme In the Womb, Miracle Babies on 28 February.
The Australian current affairs programme 60 Minutes is also in Wales to film Charlie and his parents.
Charlie and 16 of his friends will celebrate his first birthday at the General Recreation centre in Bridgend on Saturday.