Domesday Reloaded shows Welsh life in 1986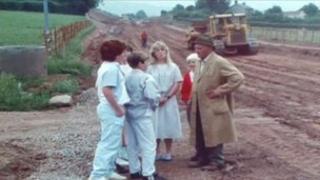 A snapshot of life in Wales 25 years ago has been revived in a BBC project showing how times change.
Domesday Reloaded looks back on 1986 and a project involving 1m people across the UK, including many Welsh schoolchildren.
Among them were pupils from Swansea and Cwmbran, sharing their hopes and filmed talking about their communities.
Organisers hope those who took part visit the new BBC Domesday website will see how life has changed since then.
Drama teacher Annelie Williams-Sheaf, 38, who was then a 12-year-old pupil at Bishopston Comprehensive in Swansea, took part in the Domesday project.
She wrote at the time about a "lot of British people out of work," adding that she was living in an age full of "videos".
Mrs Williams-Sheaf, who teaches at Penyrheol Comprehensive School, Gorseinon, remembers taking part in the project.
But she admitted she does not know why she was compelled to write "when I leave school I hope to be a dentist," as that was never an ambition.
Meanwhile, children at Llantarnam Community Primary in Cwmbran interviewed a local farmer as road diggers cut a swathe through the land to build what is now Hollybush Way.
The school was formerly known as Oakfield Juniors, and teachers have begun digging through their files to find the original school work to show their pupils after hearing about the Domesday Reloaded.
In 1986 the children wrote about how the community was expanding with homes and industrial units diminishing the surrounding rural area.
The original BBC initiative was set up to celebrate the 900th anniversary of the Domesday Book.
BBC Learning says the project was one of the most pioneering interactive campaigns of its time.
In an attempt to capture the essence of the UK in one place, the BBC asked people to submit details about their local area to help compile a digital snapshot of the country.
More than 108,000 sq km of the UK was surveyed with people submitting 147,819 pages of information as well as 23,225 photos.
All the pictures, maps, video, surveys, statistics, essays and personal testimonies were digitally etched into the two early computer discs.
However, due to costs and the rapid development of technology the system fell into obscurity, and few people ever got to see the finished results or their contributions.
"The original Domesday Project was truly innovating," said BBC Learning controller Saul Nassé.
"It was web 2.0 before Tim Berners-Lee had invented the worldwide web.
"The sad thing is the idea was actually way ahead of the technology of the time.
"But now, 25 years later, we can finally realise its true potential."