Opposition attack rural exclusion from Welsh cabinet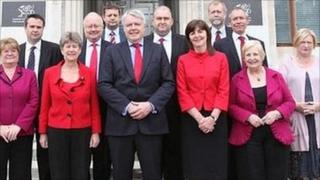 Opposition parties have criticised First Minister Carwyn Jones's decision not to include a rural affairs minister in his new Welsh Government cabinet.
Mr Jones announced his new team of ministers on Friday after Labour fell one seat short of an outright majority at the assembly election.
He has opted for a deputy agriculture minister rather than a rural affairs minister at cabinet level.
But Mr Jones said two cabinet ministers would have responsibility for farming.
Blaenau Gwent AM Alun Davies will serve as the new deputy agriculture minister under Business Minister Edwina Hart.
Plaid Cymru, whose AM Elin Jones served as rural affairs minister in coalition with Labour in the last government, said Labour had failed to recognise the importance of agriculture to the Welsh economy.
Plaid Mid and West Wales AM Simon Thomas said: "Agriculture is of huge importance to the Welsh economy as a whole.
'Hugely important'
"I am very concerned that Carwyn Jones's decision to relegate responsibility over agriculture to a deputy minister in his minority Labour government puts the future of rural Wales and our farming communities under threat."
Welsh Liberal Democrat leader and Brecon and Radnorshire AM Kirsty Williams said: "It is of concern to me and many people working across rural Wales that agriculture and rural affairs is no longer seen as important enough to merit a cabinet position," she said.
Conservative South Wales East AM Mohammad Asghar said: "Rural areas have a hugely important role to play in the future development, success and prosperity of Wales.
"All steps must be taken to ensure our rural communities are sustainable - so I am disappointed and concerned that responsibility for agriculture has been relegated to a deputy ministerial role".
But Mr Jones said: "Agriculture and food will play a vital role in the continued economic recovery in Wales and this is recognised in the fact that these areas will fall under the new Minister for Business, Enterprise and Technology, Edwina Hart.
"More specifically Alun Davies has been appointed deputy minister for agriculture, food, fisheries and European programmes. Some areas, including animal health, will also fall under the portfolio of Environment and Sustainable Development Minister John Griffiths.
"So rural affairs will be represented in cabinet by not one but two ministers of the Welsh Government."
National Farmers' Union (NFU) Cymru president Ed Bailey said: "We are pleased that the first minister has recognised the need to dedicate a deputy minister to deal with agriculture and food within the Welsh Government, we must also remember that profitable farming and a sustainable environment go hand in hand and we therefore also look forward to working closely with the new cabinet minister for environment and sustainable development, John Griffiths."