Recall on Welsh knee surgery from Weston 'flawed'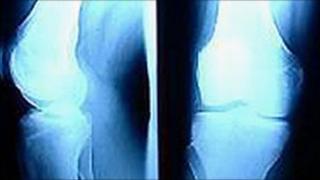 A review has raised questions over a decision to recall 683 Welsh patients who had surgery in England.
It claims "serious flaws" in a report which examined knee surgery carried out in Somerset in a Welsh Government bid to cut waiting lists.
A new independent review says the first report may have been "unconciously" biased in assessing how it worked.
But report authors British Orthopaedic Association said they had "significant areas of disagreement" with the review.
Meanwhile, Cardiff and Vale University Health Board is to consider the findings in detail and offer support to patients who may be concerned about the report.
The hip and knee operations were carried out by visiting Scandinavian doctors at the NHS treatment centre in Weston-super-Mare, where the affected patients had been referred under the Welsh Government's second offer scheme.
The scheme, which was set up in 2004 to ease waiting list pressures, has now ceased to exist.
In 2006 the British Orthopaedic Association (BOA) was asked to undertake a review of the clinical records and X-rays of 14 patients with alleged complications following knee surgery at the centre.
The initial review concluded that the proportion of those who needed surgery to change or modify knee replacements was greater than it should have been in a one year period, at 6.1%.
As a result, in 2007 683 Welsh orthopaedic patients, all from the Cardiff and Vale trust area, received letters warning them of possible mistakes in their treatment and asking that their surgery be reviewed.
But the Weston health trust called for an independent review, which was led by Professor Brian Toft, who found flaws in the initial assessment of the surgery.
Prof Toft concluded that it overstated the number of required revisions to surgery and says that its findings are no longer tenable.
He said: "The British Orthopaedic Association report contains a significant number of inadvertent serious factual errors and omissions and therefore appears to be seriously flawed.
'Unconscious bias'
"The aversion towards governmental initiatives appears to have had a deleterious affect on some of the patients who have used such clinical services and also on those who provided them at WTC."
He added that the BOA reviewers may have been influenced by "unconscious cognitive biases" when undertaking the review.
The report also suggested that orthopaedic surgeons across the UK should be forced to publish their results in future.
Dr Chris Jones, medical director for NHS Wales, noted the report's recommendations but said many related to arrangements that have now ceased to exist.
He said: "Professor Toft concludes that the original BOA report contained serious flaws and that its findings are no longer tenable.
"Although there are important lessons to be learnt, there are no definitive conclusions that can be drawn on issues such as revision rates from such a small sample size.
"The review also said that a range of factors may contribute to the need for further surgery.
"Despite a number of patients electing to have revision surgery, Professor Toft concludes that the vast majority reported a positive experience."
Dr Graham Shortland, executive medical director at Cardiff and Vale UHB said it had reviewed the report's conclusions.
"The report covers historical issues and the recommendations are those of Prof Toft, not the UHB," he said.
"Working closely with the Welsh Government, the UHB will now consider in detail the conclusions Prof Toft has drawn in his report and consider any implications.
"The UHB will support any patients who may be concerned about their treatment at the Weston centre."
Weston Area Health Trust said many of the report's recommendations relate to retrospective issues and arrangements which have ceased to exist or have changed considerably since the report was commissioned.
A spokesman said: "We remain satisfied now, as previously, that Weston Area Health NHS Trust acted properly throughout in the best interests of patients.
"We will continue to work with NHS colleagues to ensure that, where appropriate, relevant learning from this report is applied to the ongoing delivery of our orthopaedic services."
'Learnt lessons'
Peter Kay, president of the BOA, said the association had a number of "significant areas of disagreement" with the Toft report.
Mr Kay said that in the "considerable length of time" since the original review the type of waiting list initiative in question had generally been accepted as being "misguided and historical".
"The new white paper supports patient choice and clinical involvement designing and delivering services, with a focus on quality rather than targets that can distort healthcare," he said.
Mr Kay said it was evident that the episode was not in the interest of patients, commissioners, and good surgical practice; and did not support the aim of developing high quality healthcare services in Wales.
He added: "The episode is effectively closed, as the initiative is long gone and we have all learnt lessons.
"In our opinion what occurred was a regrettable and unfortunate distortion of the quality of patient healthcare that we aspire to."