Reservoir crash: Emyr Griffith and Eira Hooper funerals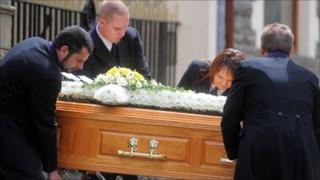 The bodies of a man and his mother-in-law who died when the car they were in plunged into a reservoir have been laid to rest in Pontypridd.
Emyr Griffith, 66, and Eira Hooper, 84, died at Llyn Clywedog, near Llanidloes, Powys, on 20 April.
Foster children Peter Briscome and Liam Govier, 14, were also killed in the incident, but Mr Griffith's wife Denise, who was driving, survived.
The funeral took place at Bethany Baptist Church, Pwllgwaun, Pontypridd.
The church was full for the hour-long service with family, friends and members of the bowls clubs where Mr Griffith was a member.
He was described as an old-fashioned gentleman who had fostered 98 children over 23 years, loving each as though they were his own.
Mrs Hooper was described as a quiet, wonderful lady, a backbone of the community whose two main concerns were her family and her faith.
The congregation also heard from Mrs Hooper's son Lloyd.
Mrs Griffith did not speak at the funeral, but church pastor Darren Rogers said he had asked her for her favourite memory of her husband and "she said the last 25 years".
Mrs Griffith was at the wheel of a Peugeot 807 when it went into the water at Llyn Clywedog. They had been on a family Easter holiday in the Machynlleth area in Powys.
Although she managed to swim to the edge of the reservoir and escaped with minor injuries, her passengers could not be saved after the crash on the B4518.
Two fire crews and boats from Mid and West Wales Fire and Rescue Service were involved in the operation, and RAF Valley, based at Anglesey, sent a Sea King helicopter search and rescue crew.
A police helicopter was also involved.
The funerals of Peter Briscome and Liam Govier were held in Cardiff last week.
Police are still investigating the cause of the incident. A 23-year-old man from Powys has been arrested and has been released on bail.