Betty Morgan on world titles and 40 years playing bowls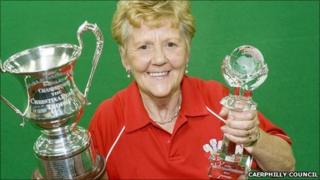 Betty Morgan is one of the most successful sports women in the UK, but mention her name and you'll probably receive a puzzled look from most.
The 68-year-old bowls player from Llandrindod Wells, soon to be a great-grandmother, has just added the world indoor singles and mixed pairs titles to her long list of awards.
Despite major success during her near 40-year career, including appearances at four Commonwealth Games, and a silver medal in 2006, she's not a household name.
This doesn't seem to bother her, but she jokes she wouldn't mind earning a premiership footballer's wages.
In fact, Morgan has been so successful that she's forgotten how many competitions she's won.
She's also won numerous caps for Wales during 35 years as an international but, once again, she has lost count of how many. She thinks it's about 140.
There's a pattern emerging here, but perhaps she's just being modest?
Whatever the case, there's no doubt it's her competitive spirit that keeps her bowling.
She recently secured the World Indoor Bowls Council's singles and mixed pairs titles. She scooped the mixed pairs with Carl Wood, from Islwyn, Caerphilly, who is 46 years her junior.
In addition, Morgan's won more than 15 British and 70 Welsh indoor and outdoor crowns, and once achieved British singles, pairs and triples outdoor titles in the same day. On top of that, she's won a host of regional and county finals.
She landed her first trophy in 1974, not long after giving up tennis.
"The bowling green was next to the tennis court in Llandrindod Wells. It must have been around the time of Wimbledon because the tennis courts were full, and having been to the courts twice and hardly played, I decided to give bowls a chance.
"I found I liked it and within a year I was thinking that I could be very good at this.
"It's a bit of a shame it's a minority sport. I suppose it stems from years ago when bowls was considered an old man's game, but now it's a young man's game but old people can play it.
"When I was playing tennis people would ask if I wanted a game of bowls, but I used to say I was too young. Then I started playing and couldn't leave it alone," the bowls player explained.
The competitive nature of the sport is what appeals.
"You'd think that would ease with age, but I'm as competitive now as I've always been," added Morgan, who was awarded an MBE in 2005.
"I don't know why I've been so successful, I'm just competitive. I do push myself in life and when I play bowls, and I strive for the best all the time."
Morgan has played all over the world, including the United States, South Africa, Canada and Australia. In Melbourne in 2006 she won a silver Commonwealth Games medal, her career highlight.
"I was disappointed I couldn't go back in 2010 to defend it - officials told me I was too old," she said.
"There are so many career highlights. Another is the Atlantic Rim Games in Llandrindod Wells in 1997 when we won the team gold.
"I was proud to win the world indoor titles in Wales. In the mixed pairs I played with 22-year-old Carl Wood, who happens to be from Islwyn."
But all this success has posed a few problems. Following her husband's death in 2005 she moved into a flat and had to bin a few of her trophies because there was no room.
"I didn't have enough room for my trophies in my new home, so I threw many of them into a skip. I've kept the most significant trophies.
"I donated some to the bowls club in Llandrindod for a young players' competition."
But how do you become a champion? Morgan offered some advice to budding sports stars.
"Don't dwell on a bad shot whatever sport you're in, and look forward to the next. It's also important to grind out a win even when you're not playing well," she said.