RIBA awards: Powys and Monmouthshire homes honoured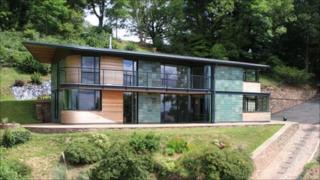 The designs of two new homes in Wales are among honours from the Royal Institute of British Architects (RIBA).
Ty Hedfan or "hovering house" near Brecon, Powys has a view from the living room "where you feel that you are amongst the trees".
The Blue Door near Chepstow Monmouthshire is praised for being "delightfully understated".
Other winners include Machynlleth's WISE building and Llandudno's Mostyn Gallery.
UWIC's management school, the University of Glamorgan's student's union and the University of Wales Newport's city campus also won awards.
The Blue Door house was designed for its retired clients in the Wye valley by Hall & Bednarczyk Architects Ltd.
To its owner, it is a quiet and understated home. But to the RIBA judges, it is also a stunning piece of architecture.
The building, which measures 256 sq m, is clad in oxidised copper-coated ceramic tiles and horizontal cedar boarding. The timber monocoque roof is clad in zinc and oversails the plan of the building.
Judges praised the building for its "fluid form", thanks to three double-glazed curved corner windows.
But despite the name, the property does not have a blue door, which the judges said was "disappointing".
Ty Hedfan is a riverside home at Pontfaen near Brecon.
Architects Featherstone Young used a striking 9m tall dry-stone wall as the knuckle between the rectangular form of the main house and the bedroom wing, which is buried into the hillside under a green sedum roof.