Teacher Alex Drummond's fundraising for Japan tsunami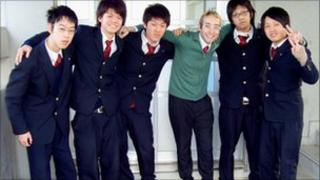 A Welsh teacher at a Japanese school when the earthquake and tsunami hit in March has raised almost £3,000 for Red Cross help.
Alex Drummond, 29, from Bridgend, was in a small fishing village on the north east coast when the disaster happened.
He had to walk for three-and-a-half hours across a "devastated landscape" to be sent home to the UK.
Mr Drummond, who has since returned to Japan, tells his story in the Radio Wales programme Eye on Wales.
He was sitting in the staff room of the village secondary school where he worked when the earthquake started in March.
He said he thought nothing of it at first as he had experienced about 20 earthquakes during the two-and-a-half years he had been in the country.
But when his Japanese colleagues started to panic, he knew that something was very different about this quake.
He said: "I threw myself under my desk and was holding on to the leg. I could see papers flying and books falling."
After living with other survivors for almost a week in the gymnasium at his school, Mr Drummond had word that a bus was being laid on by the Foreign and Commonwealth Office for British nationals.
The bus went from Sendai up to Tokyo. The roads were no longer in use and the trains had not moved since the earthquake.
He was in the village of Shiogama and to get from there to Sendai, he had to walk for three-and-a-half hours.
"It was like a scene out of an apocalypse movie," he said.
"Cars in the middle of rice fields, scattered mementos of people's lives - and there wasn't a single person around.
"I never expected to feel so alone."
Once back in the UK, Mr Drummond devoted his time to campaigning and raising funds for the stricken areas.
In the short time he was in Bridgend, he raised over £2,000 and his fundraising is now close to £3,000.
In mid April, he returned to Shiogama, before moving on to a new posting much closer to Tokyo. It was a post he had applied for long before the earthquake struck.
Since working at his new school in Yokohama, Mr Drummond has experienced continued aftershocks, and witnessed the escalation of the nuclear crisis.
Eye On Wales, Sunday 22 May 1300 BST, BBC Radio Wales