Disqualified Lib Dem AMs win support from deputy leader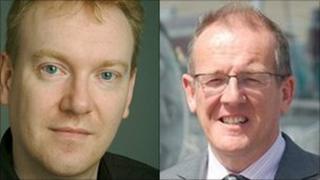 The deputy leader of the Welsh Liberal Democrats has defended the party's two disqualified assembly members.
Action was taken against Aled Roberts and John Dixon because they were were members of public bodies to which AMs cannot belong.
Roger Williams told BBC Wales' Politics Show Wales they had paid a price for misinformation on the assembly website.
Police are looking at the matter and Electoral Commission said it would be inappropriate to comment.
Mr Dixon was a member of the Care Council for Wales, which regulates social care workers. Mr Roberts was a member of the Valuation Tribunal for Wales, which deals with appeals about business rates and council tax.
"This is a wake-up call for the assembly because it's absolutely clear now that some of the guidance that the National Assembly put out is completely at odds with the regulations that they passed," said Mr Williams, the Brecon and Radnor MP.
"If the assembly is going to stand up to the plate and be a powerful legislating organisation then the way it is interpreted must be true," he added.
The Welsh Liberal Democrats have already cast doubt over whether Mr Dixon broke election rules.
The party said it has a letter from the Care Council for Wales which proves his membership was terminated.
A joint police inquiry has begun following a complaint of electoral fraud.
Mr Williams claimed that no advantage was gained and no damage was made to the public good when the two AMs took the oath in the assembly while still members of banned organisations.
"There's been no harm done and it's up to the assembly to take action to return them to their rightful places," he said.
'Proved themselves'
Aled Roberts and John Dixon were elected on the regional lists and, under the rules, the seats would go to other Liberal Democrat candidates should both be barred from their elected positions.
The second Lib Dem on the North Wales list, where Mr Roberts was elected, is the former AM Eleanor Burnham, while Eluned Parrott was second on the South Wales Central list, where Mr Dixon stood.
Mr Williams said he hopes a motion to reinstate both the disqualified AMs will be approved.
"What I am going to welcome is that when these two people who have been properly elected from my point of view are returned to the assembly.
"If for some reason it's decided not to go down that route there are two other Liberal Democrats who have proved themselves, in lots of other fields, who can come back into the assembly," he added.
The Electoral Commission said it would be inappropriate to comment while there was an ongoing police investigation.